The Grand Master's official visit to Latvia
Rome, 03/11/2008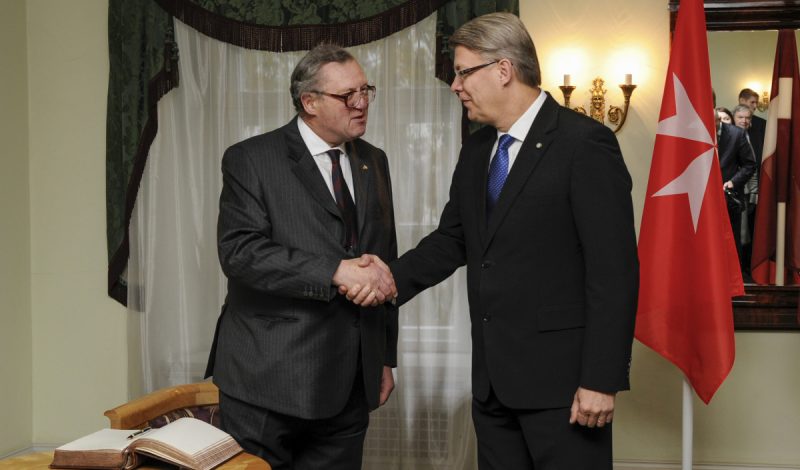 Grand Master Fra' Matthew Festing had a crowded agenda on his official visit to Latvia from 28 to 31 October
The Order of Malta's bilateral relations with Latvia and the development of cooperation in the social and health sectors were the key topics of the talks with the President of the Republic Valdis Zatlers at Riga Castle. Particular emphasis was given to the Order of Malta's contribution immediately after Latvia regained independence in 1991.
The meeting was followed by a wreath-laying ceremony at the Freedom Monument after which the President of the Republic offered a luncheon in honour of His Highness.
The Grand Master and his delegation then had meetings with, among others, the Minister of Welfare Purne, the Minister of Health Eglītis, the Deputy Speaker Pētersone, the Cardinal Archbishop of Riga Pujats, the Apostolic Nuncio in Lithuania, Estonia and Latvia Zurbriggen, the Archbishop of the Lutheran Evangelic Church Vanags and the accredited Diplomatic Corps.
During the meeting with the Minister of Welfare, Mrs Iveta Purne, a memorandum of intent was signed to foster cooperation between the Order of Malta and Latvia. The document diversifies cooperation in the social, humanitarian and health-assistance areas and defines the framework and guidelines for a further development of relations.
The Grand Master also visited the Pauls Stradiņš University Hospital Clinic and the Museum of the Occupation in Riga as well as the Catholic Church of St. Peter and St. Paul in Saldus, built with the help of the Order of Malta.