Cardinal Sandri appointed bailiff grand cross of honour and devotion
Rome, 24/04/2010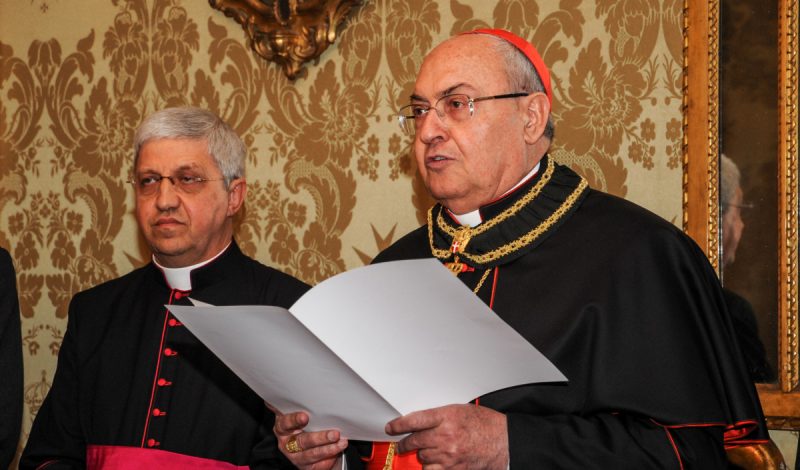 On Friday, 23 April, the Grand Master of the Order of Malta Fra' Matthew Festing conferred the insignia of Bailiff Grand Cross of Honour and Devotion on Cardinal Leonardo Sandri, Prefect of the Congregation for the Oriental Churches. The members of the Sovereign Council, the Order's Pro Patron, Archbishop Paolo Sardi, and several ambassadors attended the ceremony that terminated with a luncheon in the Magistral Palace in which some prelates of the Roman Curia were also present.
Fra' Matthew Festing thanked the Argentine cardinal for "the assistance and spirit of cooperation" he had offered the Order of Malta, during the time he held the third most important position in the Vatican as Substitute for General Affairs in the Secretariat of State and was one of the closest aides of John Paul II before being appointed head of the Pontifical Oriental Institute.
The Middle East is a very significant area for the Order, the Grand Master pointed out, since it is the cradle of Christianity, the land where the Order of St. John of Jerusalem has its origins and where the three Abrahamic religions have lived together for centuries. He recalled his satisfaction, during the meeting with the 17 leaders of the country's main religious communities last October in Lebanon, "in seeing how the eight-pointed cross is seen as a sign of solidarity and fraternity in the service of the most needy. We know we can rely on your help", he added, "in finding effective solutions to the conflicts which have for so long tormented the Middle East".
The Grand Master did not fail to repeat his personal respect and devotion and that of the Order of Malta toward Pope Benedict XVI, just as he had done the day before.