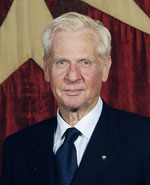 The Receiver of the Common Treasure – the Minister of Finance – directs the administration of the finances and the property of the Order in coordination with the Grand Chancellor, under the authority of the Grand Master and the surveillance of the Board of Auditors.
He is responsible for drawing up the annual accounts, relating to the economic and financial state of the Order, submitting them to the Board of Auditors and to the Grand Master, with the advice of the Sovereign Council, for approval.
Also with the advice of the Sovereign Council, he submits to the Grand Master for approval the acceptance of inheritances, bequests and donations, and the disposal and subsequent reinvestment of the goods of the Order. He manages and supervises the Magistral Postal Service and, through the Secretary General , the internal services of the Magistral household, the Personnel Office of the Grand Magistry, the Office of Technical Services and the superintendence of the Magistral Palace and related buildings.
With the mandate of the Grand Master, the Receiver also supervises the administration of the organisations and works of the Order. He is the counter-signatory for acts of disposal or assignment and contracts which involve the property of the Grand Magistry and the Priories.
Profile of the Receiver of the Common Treasure
H.E. Marchese Gian Luca CHIAVARI
Bailiff Grand Cross of Honour and Devotion in Obedience
Gian Luca Chiavari was born in Rome on January 11, 1935, to H.E Ambassador to the Italian Republic Marquis Gian Gerolamo Chiavari and Marquise Laura Pallavicino. Married to Marchesa Elena Cattaneo della Volta di Belforte, Dame Grand Cross of Honour and Devotion in Obedience of the Order of Malta, he has three children: Fabiano, Violantina and Giacomo. He graduated with honours in Business Administration from the University of Genova and was the Italian delegate to the International Associations of Students of Business Administration. He served in the military as Officer of the Cavalry Regiment of Genova.
Until 1994 he was a member of the Executive Committee of the Shell Group in Italy and worked abroad for many years with this company. Admitted to the Sovereign Military Order of Malta in 1979, made the Promise of Obedience in 1983. Elected Receiver of the Common Treasure at the 1999 Chapter General, re-elected in 2004 and in 2009. Counsellor of the Pilgrimages of the Italian Language and of the Committee for Pilgrimages to Lourdes. Has also been Counsellor of the Italian Association and member of the Council for Communications of the Order. He is Vice President of the Corps of Italian Nobility and President Emeritus of the Association of Nobles of Liguria.
Back to Government