The Grand Master received at the quirinale palace this morning by the President Ciampi
Rome, 11/12/2002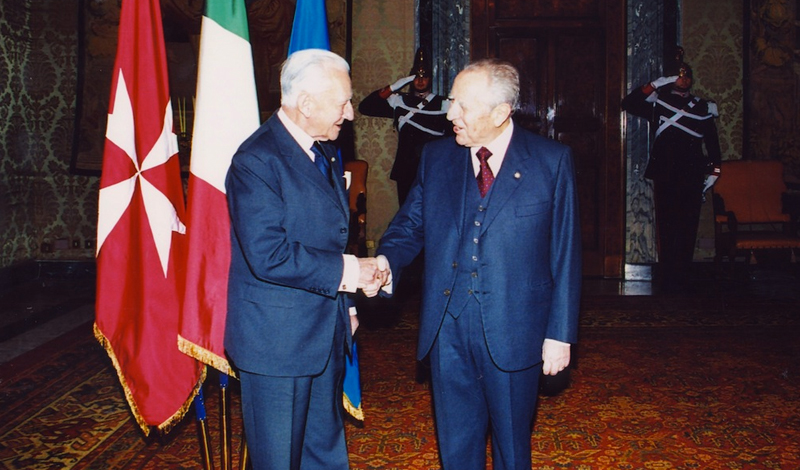 The Grand Master, Fra' Andrew Bertie, was received at the Quirinale Palace this morning by the President of the Italian Republic, Carlo Azeglio Ciampi.
As the Grand Master and his delegation arrived in the courtyard of the Quirinale, which houses the Presidency of the Republic, the flag of the Order of the Knights of Malta was raised on the tower alongside those of the Italian Republic and the European Union. The official anthems were played and the two heads of state inspected the guard of honour.
During the official talks, the Grand Master emphasised that relations with the Italian Republic continue to be very good and fruitful. The Order of Malta owes a great debt of gratitude to Italy, which has welcomed the Order most hospitably since 1798, when the knights were forced to leave the island of Malta, then under military occupation by Napoleon. And it has been from Italy that the knights' activities to help the poor and the sick, assisted by many thousands of collaborators and volunteers, have spread to over a 100 countries throughout the world.
President Ciampi expressed enormous appreciation for the activities the Order carries out and declared his wish to extend still further the jointly developed aid projects between the Italian State and the Order.
The Grand Master presented President Ciampi with the highest decoration of the Order, the Collar of Merit of the Sovereign Order of Malta. President Ciampi then offered luncheon in honour of the Grand Master and his delegation.
This visit follows that made by President Ciampi to Villa Malta in Rome on 6th December 1999, during the closing ceremony of the celebrations for the 900th anniversary of the Order. The two heads of state met again in 2001 during the Ceremony for the Handing-Over of the Italian Flag to the Sovereign Order of Malta.