The Order's highest honour for the Mayor of Rome
Rome, 21/06/2004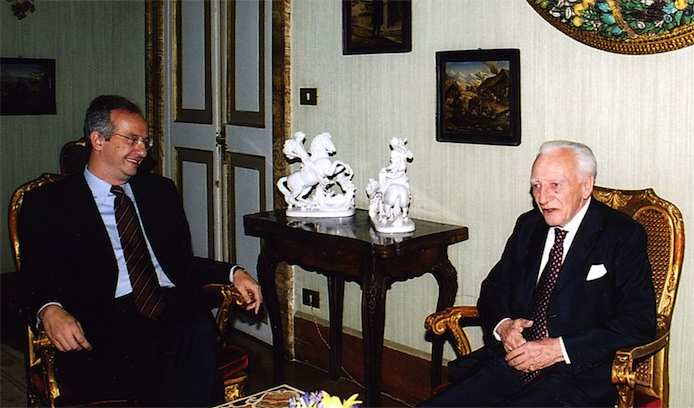 This morning the Grand Master of the Order of Malta, Fra' Andrew Bertie, conferred the Grand Cross of Merito Melitense on the Mayor of Rome, Walter Veltroni. The ceremony took place in the Grand Master's Palace, the Order's headquarters in Via Condotti 68, Rome.
In his speech, the Grand Master stated that: "the Order is sincerely grateful to Italy and the city of Rome for the generous and friendly hospitality it has offered us since 1834. This hospitality has enabled us to carry out our charitable mission, for over a thousand years inspired by Tuitio Fidei et Obsequium Pauperum, the defence of the faith and service of the poor.
In Italy, the Order performs numerous activities in the health sector. It runs the St. John the Baptist Hospital in Rome, specialised in neuromotor rehabilitation, and the nine anti-diabetes centres nationwide which treated over 44,000 people in 2003. The Order's individual bodies also carry out assistance activities for the needy".
Mayor Veltroni, after having thanked the Order of Malta for its work in the defence of the less fortunate, recalled the numerous initiatives promoted by the Municipality of Rome in the social and welfare fields.