The Grand Master receives the President of the Republic of Malta, Edward Fenech Adami
Rome, 30/06/2004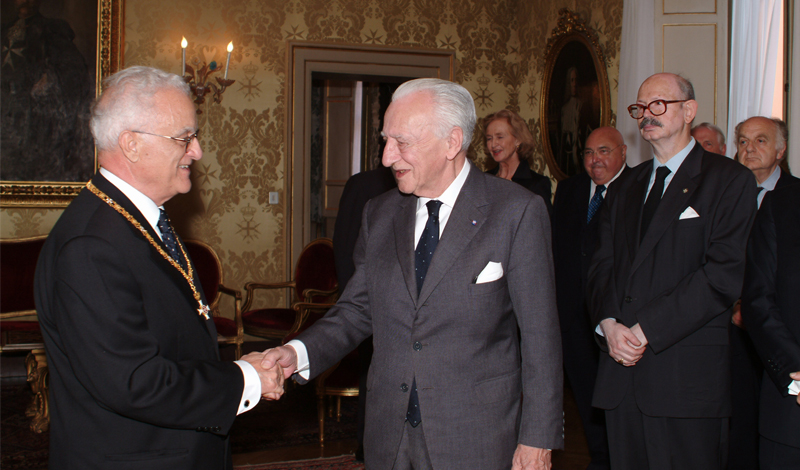 On 25 June, the Prince and Grand Master of the Order of Malta, Fra' Andrew Bertie, received the President of the Republic of Malta, H. E. Edward Fenech Adami, on an official visit.
In his speech the Grand Master asserted that: "your visit is, once again, a significant testimony to the strong ties which bind the name of the Island of Malta with that of our Sovereign Order, a long-lasting testimony to a shared culture and common ideals. Both Malta and the Order have developed over the centuries and acquired different identities, through which they continue to offer a significant contribution to the Mediterranean region and beyond."
The Grand Master also stressed "the strong links, excellent relations and fruitful cooperation between the Republic of Malta and the Sovereign Order, also fostered by the presence on Malta of an Association of the Order's Knights engaged in numerous medical and social activities, including specific projects on diabetes and eye diseases". Concerning the cooperation for the restoration of Fort St. Angelo, the Grand Master pointed out that "our presence on the island has been considerably strengthened with the agreement of 1998 confirming our special position on Fort St. Angelo. We were very happy to have contributed to the restoration of a major part of the Fort and we are proud to see the Order's flag fly once again from its ramparts, symbolising the strength of our relations and our determination to continue fostering a fruitful cooperation. Among the projects soon to be launched, there is the important trilateral agreement between the Maltese Government, Italy and the Order for an extensive programme of assistance to disabled children".
President Fenech Adami recalled that his visit to the Order falls within the tradition of a first visit abroad to the Holy See and the Order of Malta. He expressed his satisfaction and gratitude for the activities the Order performs on Malta and all over the world. He also stressed how the Order's presence on the island has helped to make Malta feel part of Europe, now fully confirmed by its membership of the European Union.
Present at the meeting, which took place in the Magistral Palace in Via Condotti, Rome, were the Grand Chancellor of the Order, Jacques de Liedekerke, the Secretary General for Foreign Affairs, Amb. Alessandro Quaroni and the Order's Ambassador to the Maltese Republic, Giampiero Nattino.
The President of Malta was accompanied by Mrs Fenech Adami, Foreign Minister John Dalli and the Maltese Ambassador to the Order, James Farrugia.