Official visit of the President of Romania Iliescu
Rome, 01/10/2004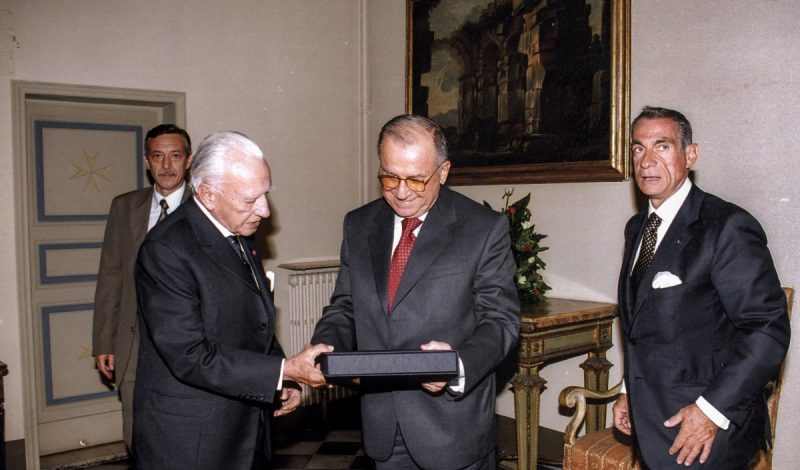 On 30 September, the Grand Master of the Order of Malta, Fra' Andrew Bertie, received the President of Romania H.E. Ion Iliescu on an official visit.
In his speech, the Grand Master recalled that "the long and fruitful relationship between Romania and the Order dates back to 1932, and immediately after the 1989 revolution full diplomatic relations were resumed and the Order was allowed once again to set up humanitarian activities. Activities that have constituted the Order's essential mission for almost a thousand years".
"During my 2002 visit, I had the satisfaction of inspecting social and medical units in various parts of Romania run by volunteers from our Serviciul de Ajutor Maltez. This service is staffed by people belonging to different faiths of the Christian church and is mainly financed by the Order of Malta's German Ambulance Corps as well as by various donations. I was much impressed by the numerous activities it performs, ranging from job-oriented educational programmes for orphans and poor children to projects for the elderly and the homebound. I was also very happy to learn that our programmes enjoy extensive support from local authorities".
President Iliescu was accompanied by the Minister of Culture and Religious Affairs, Razvan Theodorescu, and the Ambassador of Romania to the Sovereign Order, Mihail Dobre. In his speech, the President expressed the Romanian authorities' appreciation and gratitude for the many social and health services the Order performs in their country.
The meeting took place in Villa Malta in Rome since the Magistral Palace in Via Condotti is currently undergoing restoration.