The Order of Malta and Italy sign a framework agreement for medical and humanitarian assistance
Rome, 21/10/2004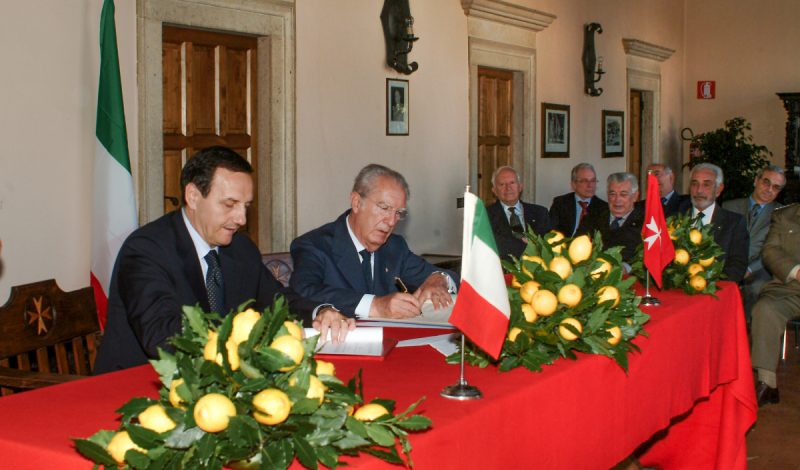 A new important framework agreement has been signed between the Sovereign Military Order of Malta and the Italian Ministry of Foreign Affairs concerning international cooperation.
The signature ceremony took place on 20 October in the St. John the Baptist Hospital in the Magliana district of Rome. Run by the Order of Malta's Association of Italian Knights, this structure is specialised in neuro-rehabilitation and represents the Order's major hospital complex in Italy.
The agreement was signed by Ambassador Giulio di Lorenzo Badia for the Order of Malta and by the Undersecretary for Foreign Affairs, Hon. Mario Baccini for the Italian Republic.
The framework agreement opens the way for joint activities in the field of cooperation. The aim is to improve the social/community-health conditions of populations in developing countries.
The programme managers will be appointed by the Directorate General for Development Cooperation of the Ministry of Foreign Affairs and by the Office of the Grand Hospitaller of the Order of Malta. These managers will be responsible for jointly drafting an operational and financial plan and for maintaining close collaboration by involving the opposite party in the decision-making process.
The programmes covered by the agreement will mainly involve:
– support for health structures in developing countries;
– strengthening disease treatment and control systems;
– strengthening vaccination programmes;
– strengthening treatment and prevention in mother and child health;
– strengthening the information system in hygiene/health care prevention and education;
– the provision of equipment, machinery and drugs;
– technical, medical and nursing assistance;
– the vocational training of health personnel.