Signature of the agreement between the Italian post office and the Order of Malta's postal service
Rome, 04/11/2004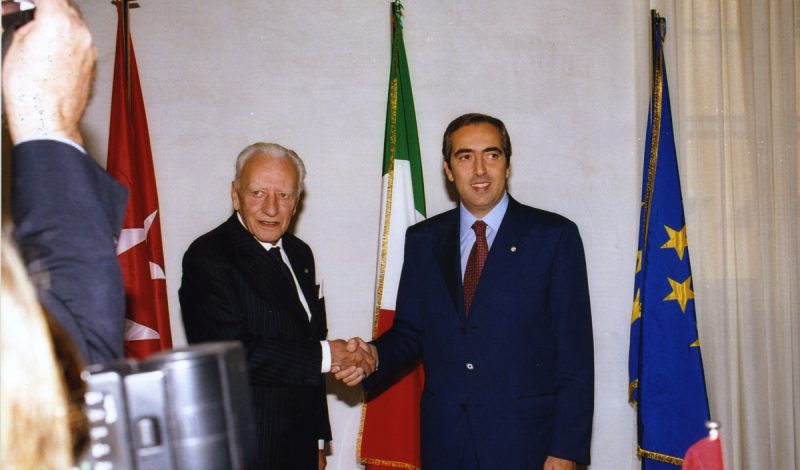 On Thursday, 4 November 2004 an agreement was signed between the Italian Post Office and the Sovereign Military Order of Malta's Magistral Post Office establishing a regular postal service between the entire Italian Republic and the seats where the Order exercises its sovereign prerogatives.
H.M.E.H. Fra' Andrew Bertie, Grand Master of the Order of Malta, and the Hon. Maurizio Gasparri, Italian Minister of Communications, attended the ceremony which took place in the latter's office.
Marchese Gian Luca Chiavari, Receiver of the Common Treasure (Minister of Finance and the Budget), signed the agreement for the Order of Malta and President Prof. Enzo Cardi and Managing Director Ing. Massimo Sarmi for Poste Italiane SpA.
The agreement with Italy brings to 51 the number of countries with which the Order of Malta has signed agreements for the circulation of mail bearing its stamps.
In his speech the Grand Master asserted that:
"This is truly an historic occasion. The signature of the agreement between the Italian Post Office and the Sovereign Military Order of Malta's Postal Service means that our long-standing ambition has finally been achieved. The postal link launched with today's agreement represents an important and significant extension of our communications network. The Order's philatelical issues, illustrating its glorious history and charitable activities, can help to spread further that message of human solidarity and peace of which the world is more than ever in need".
Established in 1966, the Order of Malta's Magistral postal service has to date issued 328 series of stamps, mainly concerning the Order of Malta, religion, its history, its art heritage and its humanitarian works. All the stamps issued since 1966 are published in the "philatelic issues" section on this site.