The Grand Master at the funeral of Pope John Paul II
Rome, 11/04/2005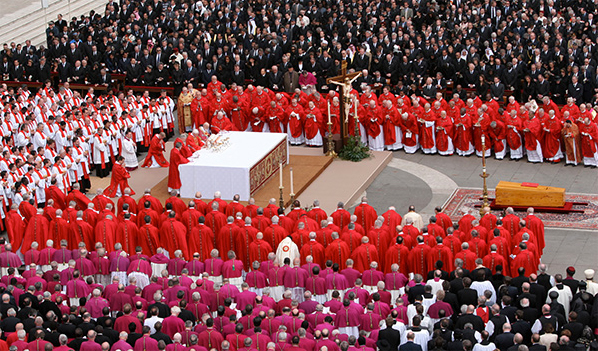 More than 200 Heads of State and government took part in the funeral of His Holiness Pope John Paul II in St.Peter's Square in Rome.
The delegation of the Order of Malta was led by the Grand Master, Fra' Andrew Bertie.
Among those present were the King of Spain, Juan Carlos, with Queen Sophia, the Prince of Wales, the Frech President, Jacques Chirac, King Abdullah of Jordan, the British Prime Minister, Tony Blair, the Iranian President, Mohammad Khatami, the President of Syria, Bashar al Addad, the Palestinian Prime Minister, Abu Ala, Amid Karzai of Afghanistan, the President of the United States of America, George Bush, the President of the Republic of Italy, Carlo Azeglio Ciampi. Also among the congregation were the heads of many other religions.
Over a million people came to Rome to pay their respects to Pope John Paul II, and 300,000 packed into St.Peter's Square for his funeral. Many hundreds of thousands followed the ceremony on huge screens set up in the main squares in the city, as well as in many capitals of the world. More than 90 countries televised the ceremonies live. The ancient church rites were celebrated by the Papal Chamberlain, HE Cardinal Edoardo Martinez Somalo and the homily was preached by HE Cardinal Joseph Ratzinger. Departing from tradition, the service represented the church's Eastern and Western rites, as well as peoples of all races, religions, ages and levels of society and was celebrated in many languages. The pages of a red-bound gospel, placed on the coffin, moved gently in the breeze which blew across the square, ruffling splendidly the red vestments of the 140 celebrating cardinals, who walked in solemn procession, bowing before the coffin to pay their last respects.
'Even today,' Cardinal Ratzinger exhorted, 'he is telling us: get up, let's go!' The cardinal, interrupted 14 times by the applause of the congregation and the thousands participating in the ceremonies in the squares of Rome, recalled the Pope's life, his vocation and his mission, concluding with words that echoed in the hearts of millions across the world: 'John Paul II is at the window of the house of the Father, he sees us and he blesses us.'