The Grand Master at St. Peter's for the mass inaugurating the Pontificate
Rome, 26/04/2005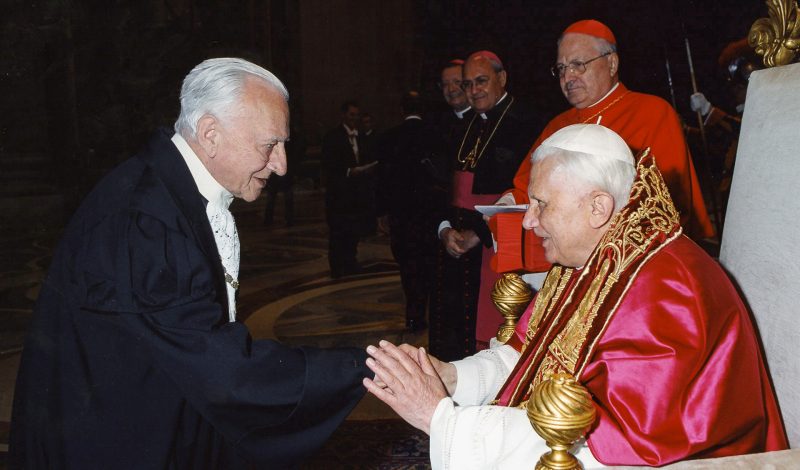 Over 400 thousand people attended the mass for the inauguration of Benedict XVI's pontificate on Sunday 24 April in St. Peter's Square, Rome.
There were thirty-six heads of state and one hundred and forty official delegations from all over the world. Among these was the Order of Malta's delegation led by the Grand Master Fra' Andrew Bertie.
After having received the pallium and the fisherman's ring (symbols of "God's will, which we accept"), the Pope delivered his homily. Interrupted a good thirty-eight times by the applause of the crowd, Benedict XVI said that " Do not be afraid of Christ! He takes nothing away, and He gives you everything. When we give ourselves to Him, we receive a hundredfold in return. Yes, open, open wide the doors to Christ – and you will find true life".
The Pope also extended his greetings to "the lay faithful, immersed in the great task of building up the Kingdom of God", "all those who have been reborn in the sacrament of Baptism but are not yet in full communion with us", "my brothers and sisters of the Jewish people, to whom we are joined by a great shared spiritual heritage" and "to all men and women of today, to believers and non-believers alike".
At the end of the mass, after having blessed the faithful gathered in St. Peter's from all over the world, the Pope went inside the Vatican Basilica to meet the official delegations. In greeting the Order's Grand Master, Benedict XVI said "May God bless all the Order of Malta".