Benedict XVI receives the Grand Master of the Order
Rome, 23/06/2005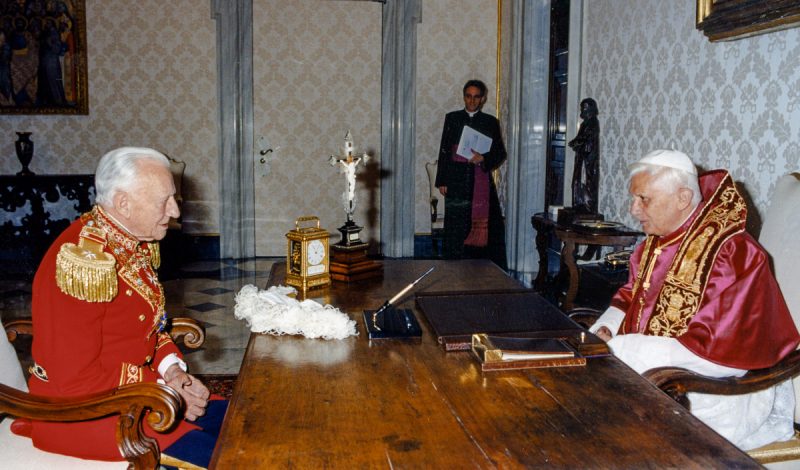 Pope Benedict XVI received this morning in the Vatican Fra' Andrew Bertie, Grand Master of the Sovereign Military Order of Malta, accompanied by members of the Sovereign Council, the Order's government.
The occasion was the feast of the Order of Malta's patron, St. John the Baptist, which falls today, 24 June. Pope Benedict XVI is also a member of the Order of Malta, with the rank of Bailiff Grand Cross of Honour and Devotion.
Among the matters touched on were the devotion of the Order of Malta towards the Holy Father, its spirituality in the service of the poor, its pledge to do its utmost to reconstruct the full and visible unity of all Christians, its initiatives in defence of the dignity of the person and the family, its fight against poverty, marginalization and the great pandemics in Africa (AIDS, TB and leprosy) and its hospital work in the African continent. During his visit, the Grand Master informed the Holy Father that tomorrow Malteser International would be launching its International Relief Corps for the Order's medical and humanitarian aid.
Malteser International – which replaces the Order's Emergency Corps – has currently missions in 35 countries, with over 150 projects. There are 100 experts in emergency humanitarian aid who, with 900 local operators, are presently working in crisis areas. Kosovo, Afghanistan, Iran (after the Bam earthquake), Darfur and South East Asia after the tsunami are only some of the most recent missions. Malteser International acts in close cooperation with the Order of Malta's network comprising 46 national associations in five continents and 93 embassies worldwide.