Floods in Romania: Malteser International brings supplies and comfort to the afflicted
Bucharest, 20/07/2005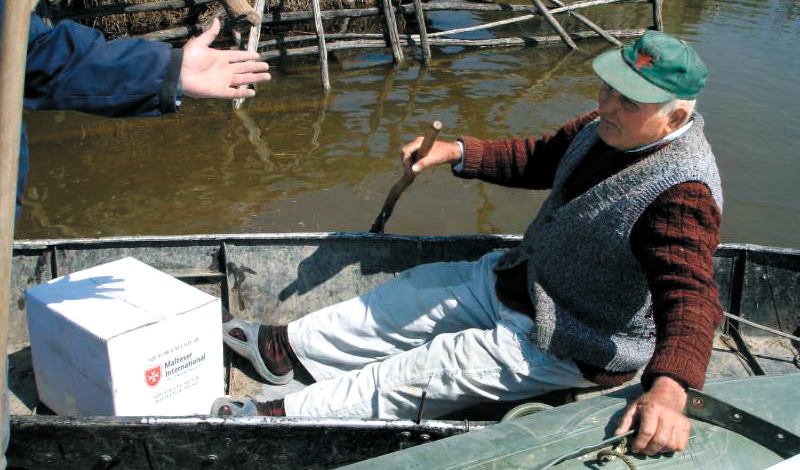 The worst floods in Romania for over 40 years have inundated more than 30 counties over the past few weeks, leaving 11 dead, thousands homeless and a great deal of destruction in their wake. Rivers have overflowed their banks, flooding homes and churning up roads. Rainfalls in many areas over the last 10 days have equalled the average for an entire year, with more expected.
In eastern Romania, roads have been closed and railway traffic disrupted. Many areas have been left without electricity or gas. TV footage showed a large number of troops, using boats and helicopters, rescuing hundreds of stranded victims in the disaster areas. More than 9,400 have been evacuated from flooded villages. Western Romania, which suffered floods in April and May, saw the evacuation from crumbling houses of 3,700 people in the areas along the border with Serbia and Montenegro.
Prime Minister Calin Popescu Tariceanu has appealed to the public to donate money to help the homeless, stating that food supplies from state reserves would be sent to flooded areas and the Cabinet would approve a financial aid package this week.
Malteser International activities
The Order of Malta Malteser Relief Service in Romania (Serviciul de Ajutor Maltez în România, SAMR) sent 450 relief packages into the district of Klausenburg (Cluj)-Valea Ierii on 14 July. The area's Prefect, Sub- Prefect and three television teams joined in the packing, loading and shipping of the packages.
A further 950 parcels were packed next day and sent to Aiud, in the district of Alba and to Comanesti in Bacau. 700 parcels are destined for Vrancea but currently all roads in are blocked. Malteser International immediately made available 50,000 Euro for relief activities in Romania and will continue to provide financial support for the SAMR activities.
The Malteser Relief Service in Romania (SAMR) was founded in 1991. It has 25 units and more than 1,100 volunteers across Romania, focussing on support and education within the social sector. SAMR provides clothing, meal services, residential homes, homes for the handicapped and clubs for elderly people. The Order of Malta Malteser Relief Service in Romania cares for the poorest members of society.