Equatorial Guinea benefits from the expertise of the Order's italian association
Rome, 03/01/2006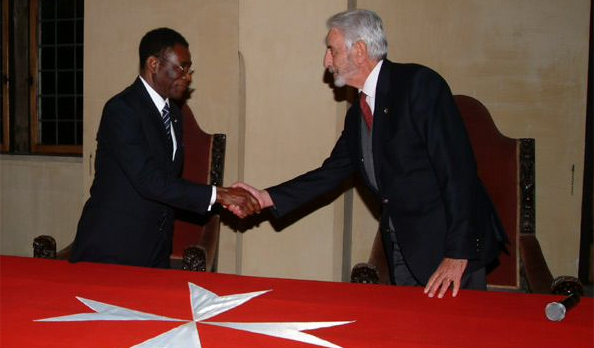 A hospital, a network of out-patients' units as well as training for medical and paramedical personnel in Equatorial Guinea. These are objectives of the feasibility study entrusted to the Order of Malta's Italian Association.
This undertaking is based on an agreement between the government of Equatorial Guinea and the Africa Charitable Trust of the Council for Regional Cooperation, Health and Development in Africa, composed of members of the Italian parliament, the personal representative for the G8 Africa of the Italian Prime Minister and representatives of the Sovereign Military Order of Malta.
The contract for the feasibility study was recently signed in Rome in the headquarters of the Order's Italian Association in the presence of Teodoro Obiang Nguema Mbasogo, President of the Republic of Equatorial Guinea.
The feasibility study will be used to calculate the costs of the hospital, of the creation of the health and social units and of the training for the medical, paramedical and administrative personnel needed to manage these structures. In particular, it is planned to set up a extensive urban and rural out-patients' network, offering medical prevention, diagnosis and treatment in numerous specialist units.
This international project is particularly significant both because of the benefits it will provide to the people of Equatorial Guinea and because it will enable the Italian Association to use its medical expertise to assist a developing country.