Helicopter help for 1000 stranded families in the Himalayas
Cologne/Islamabad, 05/01/2006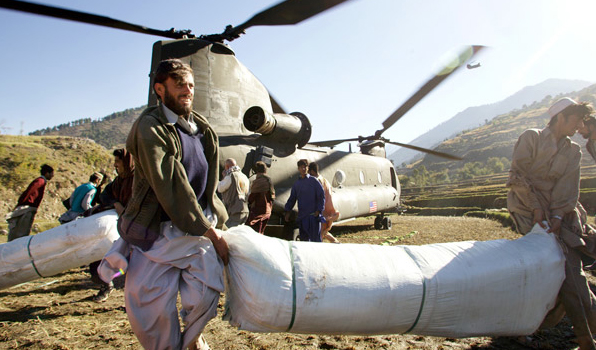 Helicopters are the only way to bring in food and shelters to the stranded communities in the remote Palas Valley, Himalaya region of Pakistan. Malteser International has added this programme to the assistance it is already providing for victims of the earthquake-affected South Asia. The team is flying in 10,000 corrugated iron sheets and insulation material to 1,000 families – about 8,000 people. The iron sheets will be used to set up winter shelters and every family will receive food, fuel, stoves and fodder for their livestock.
Malteser International's country coordinator, Claus Euler, explains: 'People in this valley were severely affected by the October earthquake. Their houses were destroyed and now their lives are threatened by the coming winter. They are trying to survive at an altitude of 2,500m altitude, cut off from the rest of the world.' Without winter shelter for themselves and their cattle they risk freezing to death or contracting severe diseases within the next few weeks. Their only hope is humanitarian assistance arriving via helicopters.
Dr. Beate Scherrer, who recently carried out an assessment for Malteser International in Pakistan, adds: 'Each family will receive 10 corrugated iron sheets which will protect them during the winter season. One sheet costs 15 euros. So 150 euros enable us to save the lives of a whole family.'
Malteser International is currently active on the ground in Pakistan and in the Indian part of Kashmir with winter relief programmes and basic health care projects. On a long-term basis, Malteser International plans the rehabilitation of health care centres and houses as well as income generating measures.