Grand Master in official visit to cameroon also visits Order hospitals in the region
Rome, 22/02/2006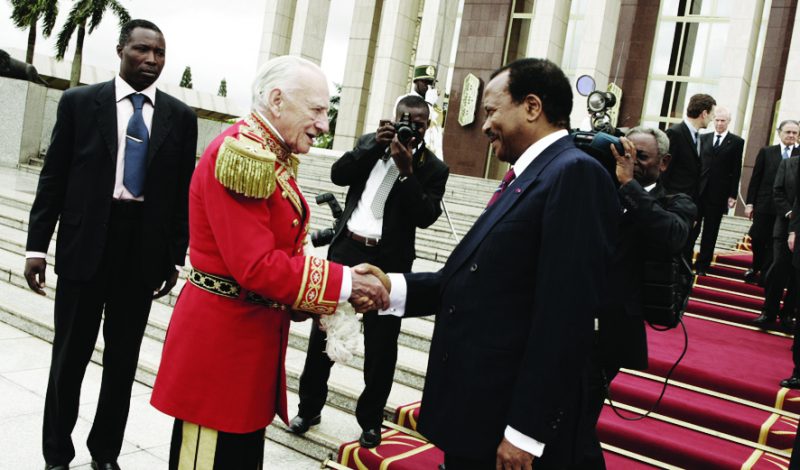 In a packed week of activities in Cameroon (February 20 – 24), the Grand Master, Fra' Andrew Bertie, was greeted by the President of the Republic of Cameroon, HE Paul Biya, and Madame Chantal Biya, on his arrival in Yaoundé with his entourage, which included the Grand Chancellor, Jean-Pierre Mazery, the Grand Hospitaller, Albrecht Boeselager, the Receiver of the Common Treasure, GianLuca Chiavari, and Fra' Elie de Cominges of the Sovereign Council of the Order.
Fra' Andrew Bertie was able to see at first hand the Order's activities in Yaoundé, and in Njombé and Mokolo. In Njombé, he inaugurated the St.Jean de Malte Hospital, and in reply to the welcomes extended by the Governor of the Province, the Prefect of the Department of Mungo and the Mayor of Njombé, he expressed his delight at finding such a well run and happy institution in the beautiful local environment, an area of banana, pineapple and palm plantations.
His Highness also visited the Mother and Child Centre of the Chantal Biya Foundation in Yaoundé where he learned about the Foundation's work in the region and, with first lady Chantal Biya, signed a partnership agreement to strengthen cooperation ties between the Order and the Foundation.
The Official Visit was followed by the Order of Malta's Regional Conference for Africa. The two-day Conference reviewed the Order's works in the Francophone countries of Africa and considered future steps. Invited speakers represented the World Health Organisation, the African Union and the First Bank of Cameroon. Fourteen Ambassadors of the Order to African States took part in the Conference, as well as representatives from Order Associations working on humanitarian projects in the African continent (France, Germany, Italy, Malta, South Africa, Spain, United Kingdom) and official participants from Cameroon.
The Conference, co-presided over by the Grand Master, with HE Ephraim Inoni, Prime Minister and Chief of Government of the Republic of Cameroon, was organised by the French Association of the Order and coordinated with HE Amb.Jean-Christophe Heidsieck, the Order's Ambassador to Cameroon.