Grand Master Inaugurates special exhibition at Fort St Angelo, Malta
Birgu, Malta, 03/07/2008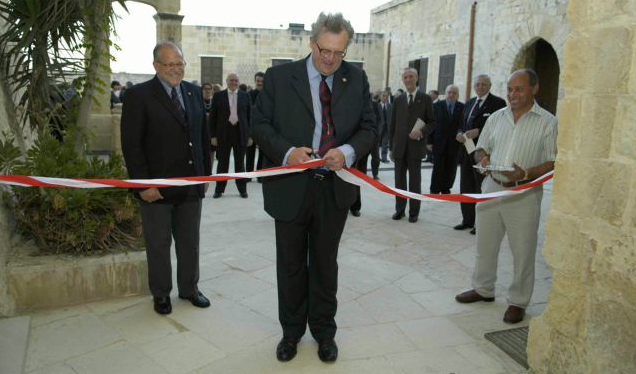 The Grand Master, Fra' Matthew Festing today inaugurated a special exhibition of antique Chinese ceramics at Fort St.Angelo in honour of the 78th Grand Master of the Order Fra' Andrew Bertie, whose love of oriental cultures was well known, as was his belief that the exchange of interest in other cultures was a powerful way of removing barriers between peoples.
The President of Malta Dr Edward Fenech Adami, and the Prince and Grand Master of the Order of Malta were patrons of the exhibition, which included pieces from the Kangxi, Yongzheng and Qianlong periods of the Qing dynasty dating from the 17th and 18th centuries. The 400 items, brought together by Fra' John Edward Critien of the Order, and never before publicly exhibited, came from the Order's collection in Rome and private collections in Malta, together with five magnificent vases from the National Collection of Malta.
The exhibition is accompanied by a fully illustrated catalogue with entries by Dr. Antoine Lebel (Brussels), Mr. Robert McPherson (London) and Fra' John Edward Critien.
The exibition is open to the public every day up to the 20th July 2008.
Photos: Martin Micallef