Official visit of the President of Romania
Rome, 06/09/2008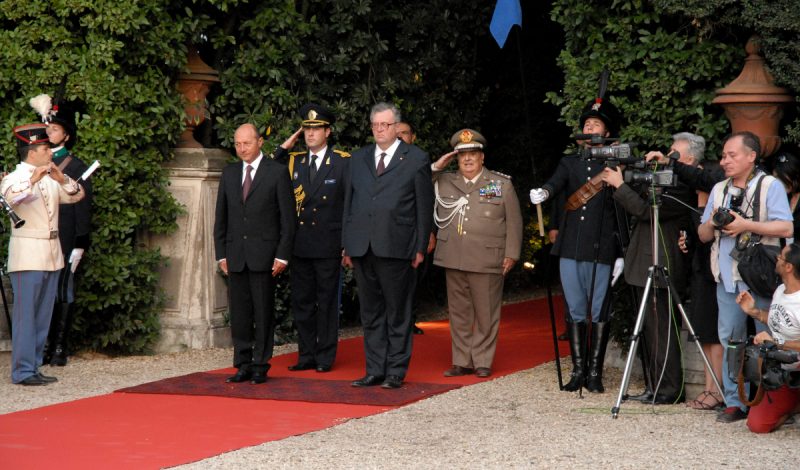 A strong, renewed commitment to continue cooperation for the health and wellbeing of the Romanian people. This formal statement concluded the summit between Grand Master Fra' Matthew Festing and the President of Romania Traian Basescu. The meeting was held in the Order of Malta's Magistral Villa during the Romanian Head of State's three-day visit to Rome.
The talks focused on the cooperation between the Order of Malta and Romania, the inter-religious dialogue between Orthodox and Catholic churches and the Romanian communities abroad, for which institutions like the Order offer 'generous and effective aid' for their often difficult integration. Also discussed was the work of the 1200 volunteers of the Order's Serviciul de Ajutor Maltez, who provide medical and social assistance for the homeless, the elderly and the disabled in 26 centres in Romania as well as helping the population during natural disasters, such as the devastating floods last July.
President Basescu, after having recalled the ancient bonds between the Order and Romania, testified to by the 'Diploma of the Knights of St. John' dating back to 1247, stressed that the 'Order of the Knights of Malta is more than an institution helping those in difficulty. It is also a body that promotes values and we, as a Member State of the European Union are involved in upholding these values, also in our own country'.
The Romanian Head of State presented the Prince and Grand Master with the 'Star of Romania' decoration, collar grade. In turn, Fra' Matthew Festing bestowed the Collar of the Order pro Merito Melitensi on the President.