The Grand Master honorary citizen of Rapallo
Rome, 18/09/2008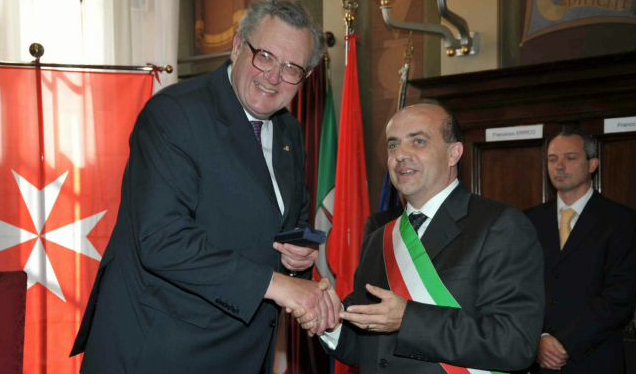 In the council chamber of the Town Hall, the Prince and Grand Master Fra'

Matthew Festing received the keys of the city of Rapallo (province of Genoa) from the hands of the mayor Mentore Campodonico and a copy, handwritten on parchment, of the resolution conferring the honorary citizenship on him. Over a hundred political, civil, religious and military personalities were present at the ceremony.
There is an ancient and deep bond between the city of Rapallo and the Order of Malta. In 1259 Fra' Guglielmo da Rapallo was elected Prior of the Order in Lombardy, while in 1549 its knights managed to kill the ferocious corsair Dragut who had sacked numerous Ligurian cities, including Rapallo. Since 1950 the Order has had one of its residences in this city and its standard bears the cross of the Order al Merito Melitense.
Grand Master Bertie was awarded the same honour in 1991.