The Grand Master on an official visit to President Mesic in Zagreb
Rome, 29/11/2008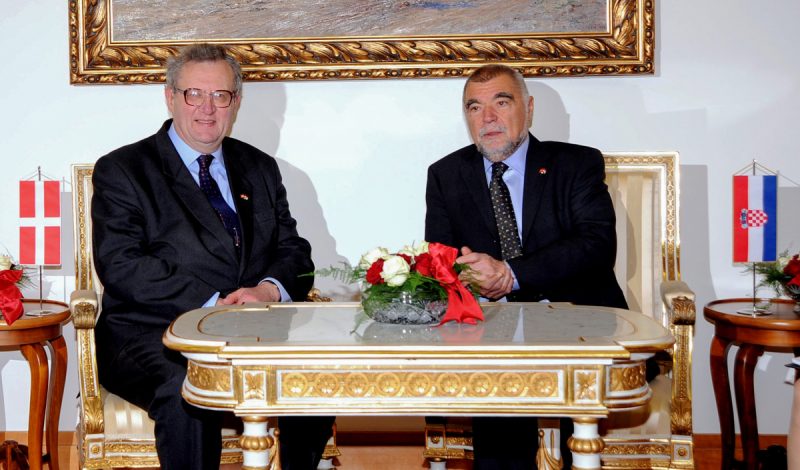 A deepening of the cooperation between the Republic of Croatia and the Order of Malta
"In Croatia there are still people in need of help, and it is very constructive for our institutions to continue cooperating with the Sovereign Order of Malta," declared President Stjepan Mesić on meeting with Grand Master Festing in Zagreb. The President thanked especially the Order of Malta for the aid given to his country during and after the war of independence in the 1990s.
During the meeting the importance of peace and stability in the region was stressed, both for the Croatian nation's development and in the long term for the consistent progress of the entire European continent.
"I consider it a great privilege to have been personally involved in the relief operations promoted by the Order of Malta to help the people of Croatia," the Grand Master stated. Recalling the support provided during the terrible war years – including the delivery and distribution of food and medicines, assistance to refugees, and later on the reconstruction work amounting to several million euro – the Grand Master underlined "the important cooperation that exists between the Order of Malta and Croatia, which has recently enabled the Order to manage the repatriation of 135 refugee convoys from Bosnia, in partnership with the UNHCR."
Following the talks, the Grand Master was received by the Speaker of the Croatian Parliament, Luka Bebić, and met the Deputy Prime Minister and Minister for the Family.
The State Visit to the country included Slavonia and Dalmatia, as well as Zagreb. Particularly moving was the visit to Vukovar, completely destroyed during the war. The Grand Master expressed his happiness "to have returned after fourteen years to the city that suffered most during the war, and to offer congratulations for the major reconstruction work."