The Grand Master visits Hungary
Rome, 13/02/2009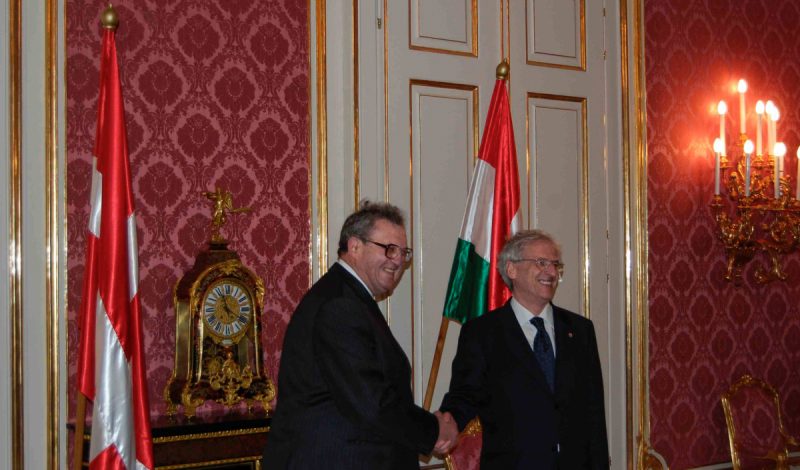 On the invitation of the President of the Republic László Sólyom, the Grand Master Fra' Matthew Festing visited Hungary from 8 to 11 February.
The talks with President Sólyom at the Sándor Palace in Budapest focused on the collaboration between Hungary and the Order of Malta in the health and social areas and the possible developments.
The meeting was followed by a luncheon in honour of His Highness, offered by the President of the Republic, and the laying of a wreath on the Memorial to the Fallen Soldiers in Budapest's Liberty Square.
The Grand Master and his delegation then had talks with the Speaker of the Hungarian Parliament Katalin Szili, the Prime Minister Ferenc Gyurcsány, the Minister of Foreign Affairs Kinga Göncz, the Cardinal Archbishop Peter Erdő and the Apostolic Nuncio Juliusz Janusz. In conclusion the Grand Master met with members of the Order's Hungarian Association and the MMSZ volunteers.
"Here in Hungary," asserted the Grand Master following his meeting with President Sólyom "after the Revolution of 1956 the Order of Malta was able to offer immediate assistance to thousands of refugees and homeless people. In 1989 the traditional friendship between the Order and Hungary – interrupted for several years – was re-established after the country regained its freedom and national independence. Since then, the Order's Hungarian Association and its hospitaller service, the MMSZ – celebrating its 20th anniversary this year – have accepted the invitation of the Hungarian authorities to work in numerous health and social centres coordinated through our embassy. Several programmes have been set up to tackle these commitments, including the creation of a national network. During its twenty years, the MMSZ has become the major welfare organization in Hungary, with a wide range of initiatives. Its standing is proved by the fact that it employs some 900 people and has around 12,000 volunteers. I am very pleased that the Hungarian authorities have shown their appreciation for the results obtained."