Grand Hospitaller visits' quake zone and inspects cisom's emergency aid measures
Rome, 15/04/2009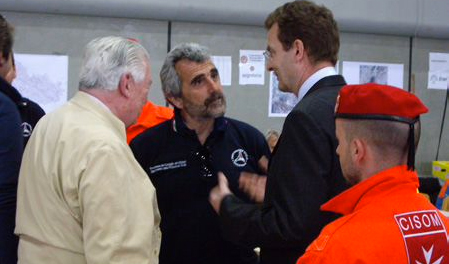 The Grand Hospitaller, Albrecht von Boeselager, yesterday visited the areas of Abruzzi affected by the recent earthquake. Accompanied by the Italian Association's Magistral Commissioner, Fausto Solaro del Borgo, he wanted to see for himself the work that the Italian Relief Corps volunteers had carried out during the recent traumatic days.
In the operations room of the Department of Civil Protection, set up in the NCO School of the Guardia di Finanza, the Grand Hospitaller met Dr.Agostino Miozzo, Director General of institutional and international relations of the Italian Civil Protection Department. "I am grateful to the volunteers of the Order of Malta Italian Relief Corps (CISOM) for service they provided with their usual professionalism," said Miozzo. "In this crisis their contribution was, as always, greatly appreciated. They are now a well-integrated part of our Department."
The Grand Hospitaller continued his visit in the two camps set up by the Order's Relief Corps in Roio and in S. Felice d'Ocre, where he talked to the volunteers and to many of the earthquake's survivors. Mauro Casinghini, Director of the Italian Relief Corps, conducted the tour around the camps, showing how the Corps was organised, and emphasising the speed with which they have activated the emergency intervention that meant they were able to help the population with as little disruption as possible. "I am very happy with what I saw: the high level of organisation, the atmosphere in the camps, the relative serenity of the people so affected by events demonstrate the quality of intervention provided by our volunteers. To them goes all our admiration and gratitude for their dedication," the Grand Hospitaller observed warmly, at the end of the visit.