The Grand Master with the earthquake victims in Abruzzo
Rome, 24/04/2009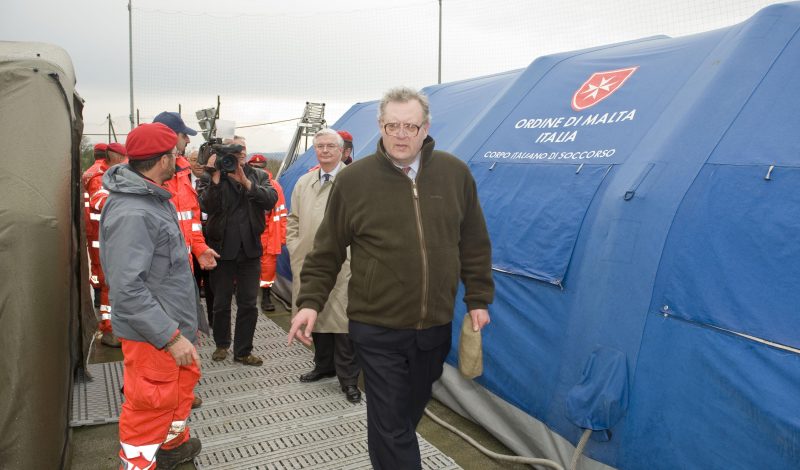 On Thursday 23 April, the Grand Master of the Order of Malta Fra' Matthew Festing visited the two tent camps of Poggio di Roio and S. Felice d'Ocre set up by the Order of Malta's Italian Relief Corps (CISOM) in the Aquila area hit by the earthquake.
Arriving just after 4 p.m. under pouring rain in Poggio di Roio, where 700 homeless people now live, the Grand Master met some of the earthquake victims and talked to the Order's volunteers about the health and humanitarian services activated under the coordination of the Italian Civil Defence. After having visited the camp chapel, where an ancient wooden statue of the Madonna had been salvaged from the Poggio di Roio church, the Grand Master visited the two advanced medical stations set up in the two tent camps, where hundreds of operations had been carried out immediately after the quake, and chatted with some of the younger patients.
67 CISOM volunteers (doctors, nursers and specialised helpers) had arrived in the earthquake zone in the early hours of 6 April. Besides the tent camp of Poggio di Roio, another camp has been erected for 275 people in San Felice d'Ocre. 2000 meals a day have been distributed in the two camps since 8 April. At the request of the Civil Defence, CISOM will remain in charge of the two camps for the entire duration of the state of emergency, expected to last for the entire summer. Because of this, during his visit, Fra' Festing promised those living in the two camps that he would personally follow the humanitarian assistance the Order is providing and the needs that will arise in coming months.
With his visit the Grand Master wanted to demonstrate his closeness to the populations affected by the earthquake, with whom the Order of Malta has been closely involved since the first hours of the catastrophe. On 15 April the Grand Hospitaller Albrecht von Boeselager, the Order's Minister of Health and International Cooperation, also visited the earthquake areas.