The Grand Master receives the Polish President Lech Kaczyński
Rome, 18/05/2009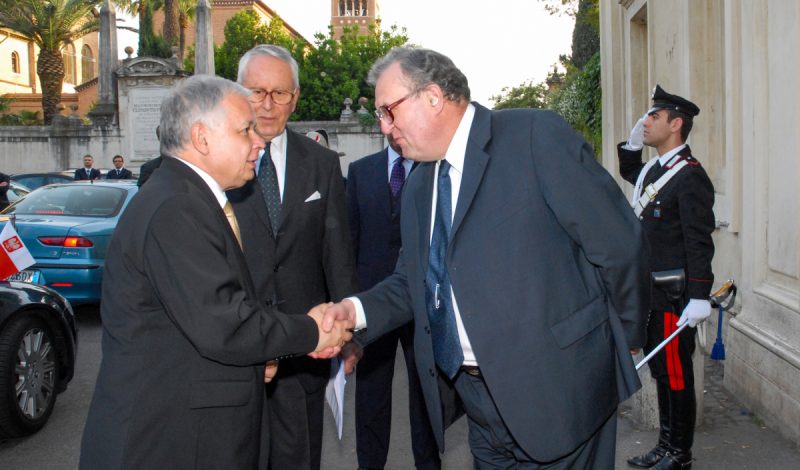 Grand Master Fra' Matthew Festing received the Polish President Lech Kaczyński on the evening of 18 May in the Order of Malta's Magistral Villa in Rome. This was a return visit after that in 2007of the then Grand Master, Fra' Andrew Bertie, to Poland.
The talks between the two Heads of State focused on the bilateral relations established in 1990 and the Order's healthcare and welfare services in Poland, intensified after the Cooperation Agreement signed two years ago. The Grand Master stated that Poland, now a NATO member, is one of the "most respected members of the European Union". Its current achievements, he said, are also thanks to the efforts of those like the President who "over 25 years ago risked their lives to put an end to the injustices of Communism, to combat intolerance and to promote freedom, human rights and democracy in their countries".
The Grand Master recalled that the Order has been present in Poland since the 12th century and that the Knights of Malta's Polish Association was created in 1920. After the war it had had to suspend its operations until the fall of the Iron Curtain, only resuming its health, welfare and charitable programmes in 1992. Last summer, in close coordination with the Order's embassy in Poland, the Polish Association was one of the first to hasten to Georgia to assist victims of the conflict with Russia. This humanitarian intervention, the Grand Master stated, "meant that healthcare services could be organised and medical supplies, food and other basic necessities distributed to refugees and to everyone affected by the fighting". In turn, President Kaczyński praised "the professionalism and painstaking cooperation that the Order of Malta deploys in extreme situations," hoping that this assistance, "will continue to be provided in the future," and that "the values the Order promotes" will be disseminated everywhere.
The Grand Master gave the President commemorative medals of the Grand Masters during the Maltese period and an icon of the Virgin to his wife, Maria Kaczyński. At the conclusion of the ceremony Fra' Matthew Festing was awarded the Grand Cross of Merit of the Republic of Poland. "A recognition," the Grand Master said, "that is a great honour for me personally and for the entire Order of Malta".