The Pope receives the Grand Master in the Vatican
Rome, 25/06/2009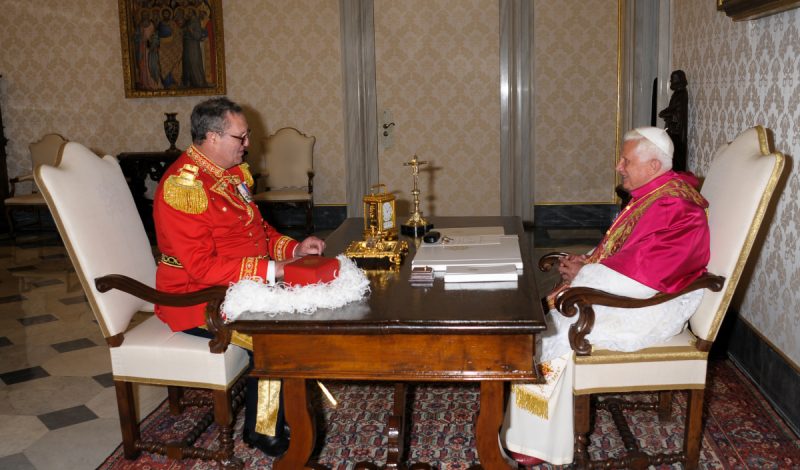 The Order of Malta's Grand Master Fra' Matthew Festing had a long private conversation with Pope Benedict XVI, who received him this morning in the Vatican the day after the feast of the Order's patron saint John the Baptist on 24 June.
The topics discussed during the meeting included the Order's spiritual, humanitarian and diplomatic activities; the strategies for the next ten years mapped out during the Order of Malta's international strategic seminar in Venice last January; the Order's ecumenic dialogue with the patriarchates of Moscow and Minsk; health and social care in the Holy Land and in the Lebanon; the Italian ambulance corps' first-aid operations after the Abruzzo earthquake and in Lampedusa where it works with the Italian Coastguards to rescue immigrants in the strait of Sicily; the humanitarian commitment in the refugee camps of Pakistan and Sri Lanka. Benedict XVI praised the Order's works and urged its members to remain faithful to its charisma by bearing witness to the faith and tending to the poor and the sick.
At the end of the audience, the Pontiff also greeted the members of the Sovereign Council, the Order's government confirmed by the latest Chapter General held in Rome on 8 and 9 June last. After his meeting with Benedict XVI, the Grand Master had talks with the Vatican Secretary of State, Cardinal Tarcisio Bertone.