The Grand Master in Budapest 20 years after the fall of the iron curtain
Budapest, 03/07/2009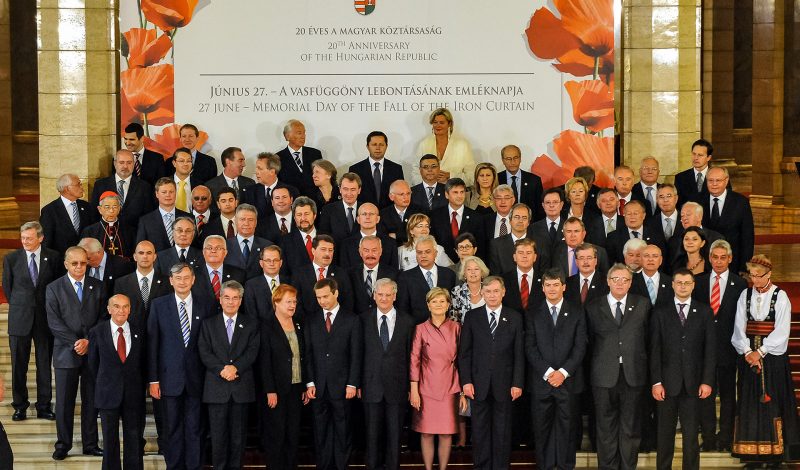 Last Saturday, on the invitation of the Hungarian President Laszlo Solyom, Grand Master Fra' Matthew Festing participated in the celebrations for the twentieth anniversary of the fall of the Iron Curtain in Budapest. Heads of State present included the German Horst Koehler, the Austrian Heinz Fischer and the Finnish Tarja Kaarina Halonen, together with other European political personalities of those years.
20 years ago, on 27 June, Hungary opened up its border with Austria, enabling thousands of East German citizens to find refuge inside its territory while waiting to enter West Germany through Austria. This Iron Curtain opening is often described as the first crack in the Berlin Wall which was to fall a few months later, on 9 November 1989, and one of the key episodes leading to the collapse of communism in central Europe. During that memorable summer the Order of Malta offered humanitarian assistance to the refugees living in tents on Hungarian soil.
The celebrations started in Kossuth Lajos Square in front of Parliament. Speeches were given by President Solyom, Premier Gordon Bajnai and the Speaker of Parliament Katalin Szili. A military parade culminated with the Ode to Joy, the European Union's official anthem.
The personalities then moved to the upper chamber of Hungary's Parliament to view an exhibition on the 1989 events. At 11 a.m., Speaker Szili gave a short address, followed by a 10-minute film on the fall of the Iron Curtain. Father Imre Kozma, founder and president of the Magyar Maltai Szeretetszolgalat (the Order of Malta's Hungarian Ambulance Corps) then took the floor, followed by the French ex-foreign minister Roland Dumas, the ex-Austrian chancellor Wolfgang Schuessel, the Austro-Hungarian journalist and writer Paul Lendvai, the prefect of the Austrian region of Burgenland Nikolaus Koch and the Hungarian ambassador to Vienna Istvan Horvath.
After a gala lunch in the Parliament building, the delegations attended the inauguration of the Hungarian photographer Robert Capa's retrospective at the Ludwig Museum. Festivities continued with a series of open-air events in Varoshaz Square.
The Grand Master of the Order of Malta had already met President Solyom during his state visit to Hungary last February.