The Italian coast guards awarded the Order's gold medal
Rome, 22/07/2009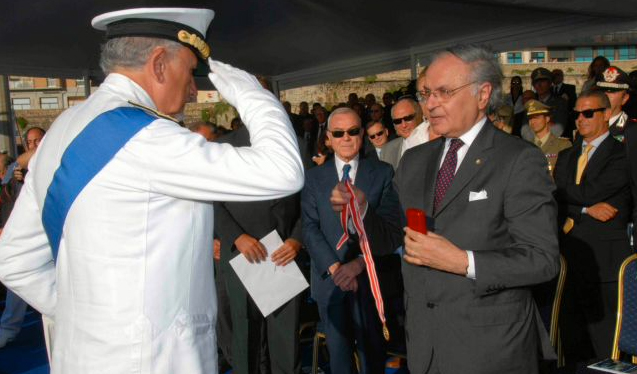 During the celebrations for the 144th anniversary of the Italian Harbour Office – Coast Guard Corps, on 20 July last, the Grand Chancellor of the Order of Malta Jean-Pierre Mazery conferred the gold medal with swords al Merito Melitense on the corps' flag.
The citation accompanying the decoration that the Order of Malta's Grand Master and Sovereign Council awarded to the naval units' standard reads: 'for the dedication, abnegation and mature solidarity with which, in perfect coherence with the Order of Malta's founding principles, the men of the Coast Guard Corps carry out their mission for all those who go to sea and for their commendable humanitarian and relief action in favour of thousands of people at risk of their lives in the Mediterranean waters'.
Since April 2008, the volunteer doctors of the Order of Malta's Italian Ambulance Corps have been working on board the Italian Coast Guard's patrol boats in service on Lampedusa and in the strait of Sicily. Between April and October 2008 alone they saved over 2,500 immigrants, including numerous children and pregnant women.
Present at the ceremony in the Michelangelo Fort of Civitavecchia were the Speaker of the Senate, Renato Schifani, the Minister of Infrastructure and Transport, Altero Matteoli, the Minister of the Environment and Protection of Land and Sea, Stefania Prestigiacomo, the Naval Chief of Staff, Admiral Paolo La Rosa and the Commander of the Coast Guard Corps, Raimondo Pollastrini.