Sumatra: Malteser International assists survivors
Indonesia, 02/10/2009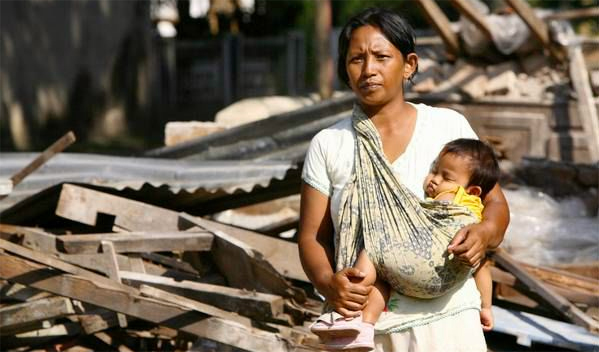 First aid also in Vietnam after typhoon Ketsana
Malteser International is already providing emergency relief measures for the survivors of the severe 7.9 magnitude earthquake that struck off the coast of West Sumatra two days ago. The United Nations calculate that at least 1100 people have been killed, albeit the official estimate stops at 777. Tens of thousands are wounded and homeless.
A Malteser International expert is on his way to Padang – where a quarter of the buildings have collapsed and almost all are reported to be damaged – to assess the most urgent needs and prepare immediate humanitarian aid. The survivors need emergency shelters, food, clean drinking water and medical aid.
At the same time, a team (medical doctor, nurse, physiotherapist and logistician) from a local partner of Malteser International has left for Padang with relief goods – blankets, tarpaulins, hygiene kits and medicine – to distribute them on the ground and to provide first aid.
Malteser International has been working in Indonesia since the tsunami in 2004 and also provided emergency relief after the serious earthquake on Java in May 2006.
Aid for Vietnam
Malteser International is promptly providing first aid in central Vietnam after typhoon Ketsana caused severe flooding. The first estimates give 1001 people killed and 170,000 homeless.
The local Malteser International team, in place since 1996, is preparing to distribute rice, oil, blankets, mosquito nets, hygiene kits and corrugated iron sheets to tackle immediate needs. Entire families have lost their homes, their belongings and their crops; their cows, pigs and poultry have also died in the floods. Water supplies, roads and communications have also been damaged.
The Ketsana typhoon first hit the Philippines (277 deaths), then Cambodia (11 deaths), Laos and Vietnam, devastating extensive areas of south-east Asia. The death toll is almost 400 but is expected to increase.