Malteser International at work in Indonesia, Vietnam and the Philippines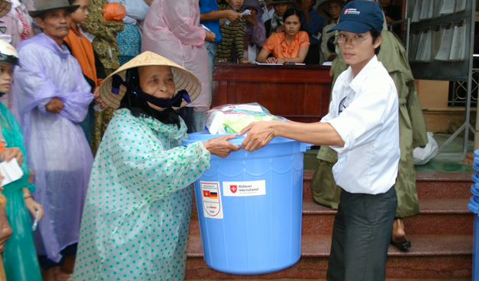 The Order of Malta's International Corps is currently engaged in emergency and humanitarian first-aid actions on three fronts – in Indonesia, on the island of Sumatra hit by a devastating earthquake, in Vietnam, where three million people are suffering the consequences of the typhoon Ketsana, and in the Philippines brought to its knees by the typhoons Parma and Ketsana.
Indonesia: Malteser International will be providing aid until March 2010

A month after the devastating earthquake measuring 7.9 on the Richter scale struck the island of Sumatra, with official estimates giving 1117 people dead and another 1214 injured, Malteser International is tirelessly continuing its own humanitarian relief work and, on request of the Indonesian government, will provide emergency aid up to March 2010, concentrating its efforts on some particularly vulnerable groups. According to the figures provided by the National Agency for the Management of Indonesian Natural Disasters, the quake rendered over 135,000 houses uninhabitable and damaged another 65,000. Some 200,000 families have lost their homes and there are two and a half million people living in the six regions most affected.
The Order of Malta's International Relief Corps has concentrated on constructing shelters and in distributing emergency goods in the most outlying rural regions. With the support of the German Foreign Ministry, it has helped 1700 families in the village of Pilubang, north of Padang, where 90% of the houses have been destroyed. To date, only a few humanitarian organizations have managed to reach this area, and Malteser International has provided 1400 big tents, 1500 blankets and sleeping mats and 1200 hygiene kits. "The people urgently need accommodation," explains Nicole Derbiski, local coordinator of Malteser International's projects in Indonesia, "as well as sleeping mats, household and hygiene utensils. The rainy season has just begun and makes the situation of the survivors even more difficult". In the same Slungai Limau district, Malteser International has started to rehabilitate a primary school for 192 children.
Vietnam: 6000 families helped after typhoon Ketsana while reconstruction has begun

Malteser International also continues to provide aid in Vietnam, where typhoon Ketsana killed more than 163 people and injured another 616. Some three million have been affected by the flooding, with 600,000 having to leave their houses. Over 16,000 hectares of crops have been devastated and harvests destroyed.
The Order of Malta's International Relief Corps, present in the extremely poor region of Quang-Nam since 1996, has distributed hygiene kits to 5300 families in the village of Danang and corrugated iron sheets to another 670 families to start repairs on their houses. Over 20,000 homes have been destroyed in the village. Once the funds have been raised, Malteser International will launch a disaster prevention project in the same area, after which it will start reconstructing the water and sanitary sewer infrastructure .
The Philippines: emergency aid after Parma and Ketsana typhoons

Malteser International in the front line after the Ketsana typhoon and then the Parma typhoon brought the Philippines to its knees. Emergency operations were immediately set up and ten thousand euro sent to Manila after official estimates said that over seven and a half million families had been affected by the two disasters. The government has recently launched an appeal to cover humanitarian emergency aid for at least a million people.
The Order of Malta's International Relief Corps has distributed food, hygiene kits and basic necessities to over 2000 families, while it is concentrating on providing water and sanitary services for 840 families from the evacuated areas. Mobile health clinics are also being set up to take medical assistance to 2800 families in remote areas where aid has not yet arrived.