Order of Malta and Czech Republic sign an agreement for aid to Haiti
Rome, 28/04/2010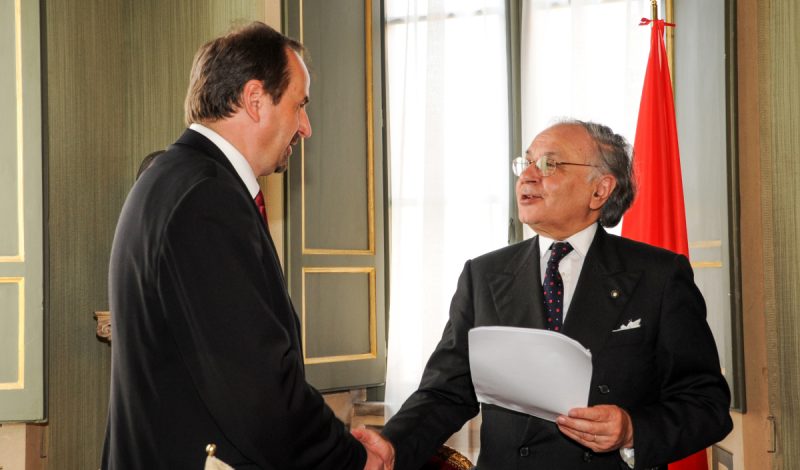 An agreement protocol for humanitarian cooperation in Haiti was signed today between the Czech Republic and the Order of Malta during the visit of Jan Kohout, Czech Vice-Premier and Foreign Minister, to the Order's Grand Chancellor Jean-Pierre Mazery in the Magistral Palace in Rome. The Czech Republic will provide technical cooperation and donate three million Czech crowns (around 117,000 euro) for the health training, disaster preparedness and reconstruction projects the Order is implementing in Haiti after the earthquake in January that caused over 230,000 victims and made a million people homeless.
The Czech Vice-Premier took the opportunity to thank the Order of Malta, present in the country with the Grand Priory of Bohemia since the 12th century, for the health and welfare work it resumed nationwide in 1990 after the fall of the Berlin wall. Czechoslovakia then re-established diplomatic relations with the Order, later confirmed in 1993 after the separation between the Czech Republic and Slovakia.
"The twentieth anniversary of the establishment of bilateral relations," recalled Kohout, "is a very agreeable excuse for thanking the Order of Malta for everything it has done since the fall of the Communist regime and will continue to do in our country in the health sector". The disastrous earthquake that struck Haiti "offers us the chance to reverse the roles and become the Order of Malta's donors instead of its beneficiaries and to help reconstruction in this tormented country through a partner present in the area with effective projects implemented with great professionalism. This donation represents a further step forward in the cooperation between the Czech Republic and the Order of Malta, which we hope will lead to increasingly close relations".
The Order's Grand Chancellor thanked the Czech Vice-Premier for his appreciation of the work carried out in 120 countries besides the Czech Republic, where the Order is present with its offices in ten cities with over 300 volunteers to assist the disabled, chronically sick and socially and culturally deprived children. The Order of Malta has been active in Haiti for over 15 years, and plans to continue its humanitarian work for at least another three years. "Our priorities in Haiti, "explained the Grand Chancellor, "are basic health support, vaccination campaigns, psycho-social assistance, access to drinking water and poverty reduction. The target is to integrate this aid into the local infrastructure to support reconstruction. Hence we are very pleased that the Czech authorities have decided to cooperate with us on these projects".
Among those present at the luncheon in the Magistral Palace in honour of the Czech delegation, followed by talks and signature of the agreement, was the Pro-Patron of the Order of Malta, Archbishop Paolo Sardi.