Slovakia: Foreign Affairs State Secretary at the Grand Magistry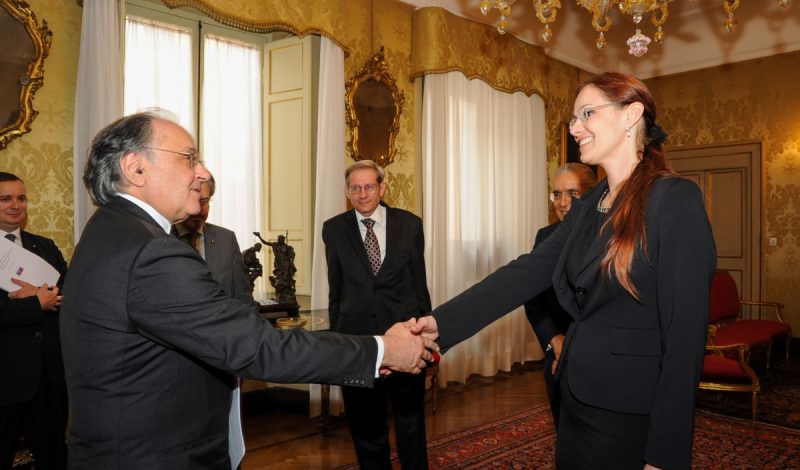 During her meeting in the Magistral Palace with the Order's Grand Chancellor Jean-Pierre Mazery, Diana Štrofová, the Slovak Republic's State Secretary of the Ministry of Foreign Affairs, expressed her appreciation for the Order of Malta's work in her country and the hope that it will intensify, especially with the more disadvantaged Rom minorities. The talks were an opportunity for an exchange of views on international affairs, with particular reference to the situation in Afghanistan and Iran as well as the state building process in Kosovo.
The young State Secretary of the Slovak Republic, recalling that 2010 marks the twentieth anniversary of the start-up of bilateral relations, conveyed the gratitude of the country's leaders for the psychological assistance given to the victims of domestic violence in Bratislava and the care of terminal patients in Nitra, just two of the Order's many commitments in her country. The embassy promotes periodical fund-raising events and the distribution of medicines and food to the homeless, young cancer patients, orphans and offenders.
At the government's request, one of the projects in the pipeline involves stepping up schooling and vocational training for Rom children and adolescents to integrate them in the country's civil society and rescue them from micro-criminality and begging. State Secretary Štrofová stressed that this is one of Slovakia's priorities and ensured the support and interest of the country's highest authorities for the Order of Malta's efforts. These will be some of the key topics of the meeting between the Order's Ambassador Francis O'Donnell with the Slovak Republic's First Lady Silvia Gašparovičová, scheduled for early June in Bratislava.