Grand Master receives President of the Dominican Republic
Rome, 22/05/2010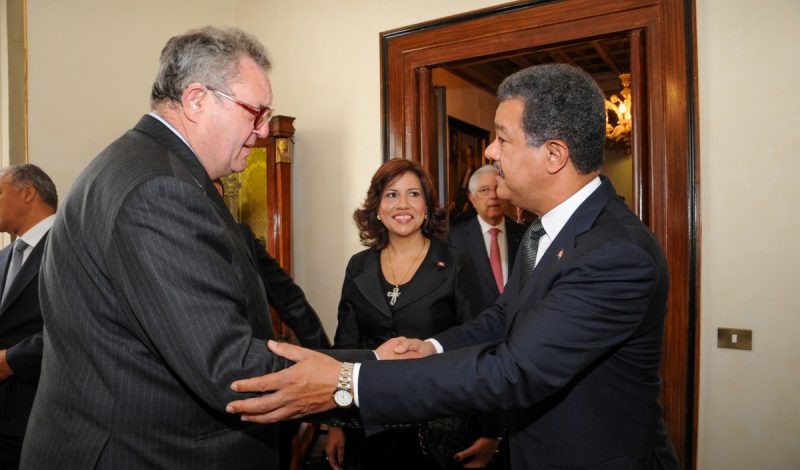 Focus on situation in Haiti and intensifying cooperation in Santo Domingo
The post-quake situation in Haiti and the intensification of health cooperation were the key topics of the visit yesterday morning of the President of the Dominican Republic Leonel Fernández Reyna to the Grand Master of the Sovereign Military Order of Malta, Fra' Matthew Festing, in the Magistral Palace. President Reyna was accompanied by his wife Margarita Cedeño and a small delegation. The Grand Chancellor Jean-Pierre Mazery and the Grand Hospitaller Albrecht Boeselager also participated in the talks.
The Grand Master thanked the President for the invaluable support given to the Order's teams during their humanitarian efforts in Haiti after the devastating earthquake last January that caused over 230,000 victims. Currently Haiti, President Fernández stated, "is undergoing a transition stage from emergency to sustainable development ".
The President said that, in the weeks after the quake, the bordering country not only sent basic necessities but also 40 buses that were turned into classrooms to allow hundreds of pupils to finish the school year. The Grand Master suggested that buses could also be used in the future as mobile clinics, as already implemented in other humanitarian projects. The Grand Hospitaller stressed that the Order will continue its assistance efforts in Haiti, as well as providing training courses for paramedical staff, one of the most critical health emergencies in the country.
The priority now, President Fernández said, is to build accommodation before the rainy season arrives. A regional conference of donors is being organised in Santo Domingo to plan the reconstruction and, in particular, to strengthen the infrastructure.
It was hoped that a humanitarian cooperation agreement could soon be signed between the Dominican Republic and the Order of Malta to support the work the Order's Association carries out in its two paediatric centres in Santo Domingo.
The Grand Master and President Fernández also agreed to collaborate more closely in combating false orders to prevent further frauds like those perpetrated in the country in the past.