The Grand Master receives the Bulgarian Premier
Rome, 23/05/2010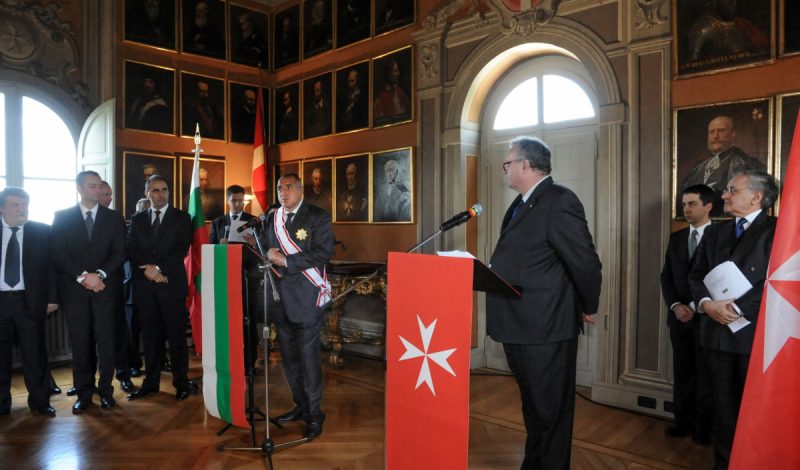 Grand Cross of Merit for Premier Borissov. Bilateral relations and Haiti cooperation discussed
The "excellent bilateral relations" and Bulgaria's cooperation in the Order's humanitarian assistance in Haiti were the focus of the Bulgarian Premier Boyko Borissov's visit to the Grand Master of the Sovereign Military Order of Malta Fra' Matthew Festing in the Order's Magistral Villa in Rome today. The Premier was accompanied by a numerous delegation including Vice-Premier and Home Minister Tzvetan Tzvetanov, Foreign Minister Nickolay Mladenov, Culture Minister Vejdi Rachidov and representatives of the Orthodox Church.
The Grand Master talked about the health and humanitarian work the Order carries out in Bulgaria through its embassy and praised the Premier "for the democratization of the country and the efforts made to overcome its difficult economic situation". The Grand Master conferred the Grand Cross – Special Class al Merito melitense on the Prime Minister "for his personal commitment in fighting corruption and organized crime for Bulgaria's common good and to improve its international image".
Also discussed during the meeting was the permanent assistance project on which the Order's embassy in Sofia is working: "we are pleased about the Order's project to open a soup kitchen for the poor in Sofia," stated Premier Borissov, "and Bulgaria will provide all the necessary assistance for this commendable initiative".
The Prime Minister's visit took place soon after the Bulgarian government's initiative to promote the Order's work in Haiti. At the proposal of Culture Minister Rachidov, on Sunday 30 May the Palace of Culture in Sofia will house a charity concert "The Balkans – a stage for Haiti" (5000 spectators are expected). Part of the funds raised will finance the Order's medical and psycho-social assistance programmes in the earthquake-devastated country. Singers and celebrities from another ten countries in the region – Albania, Bosnia-Herzegovina, Croatia, Greece, Former Yugoslav Republic of Macedonia, Montenegro, Romania, Serbia, Slovenia and Turkey – will participate in the event. Television viewers will be able to make donations via SMS during live coverage by the national Bulgarian TV; in the other countries it will be broadcast in Eurovision.
After Premier Borissov's meeting with the Grand  Master, also attended by the Foreign Minister Mladenov and the Grand Chancellor Jean-Pierre Mazery, the delegation stayed for luncheon.
Bulgaria and the Order of Malta have maintained diplomatic relations since 1994.  The Grand Master received the Bulgarian President Georgi Parvanov on a State visit on 22 May 2009, again to celebrate Saints Cyril and Methodius, co-patrons of Europe. Over the last four years, the Order of Malta's embassy in Sofia has made some 100 donations of basic necessities distributed in 53 localities in Bulgaria.