Great Britain hosts the Order of Malta's 2010 international summer camp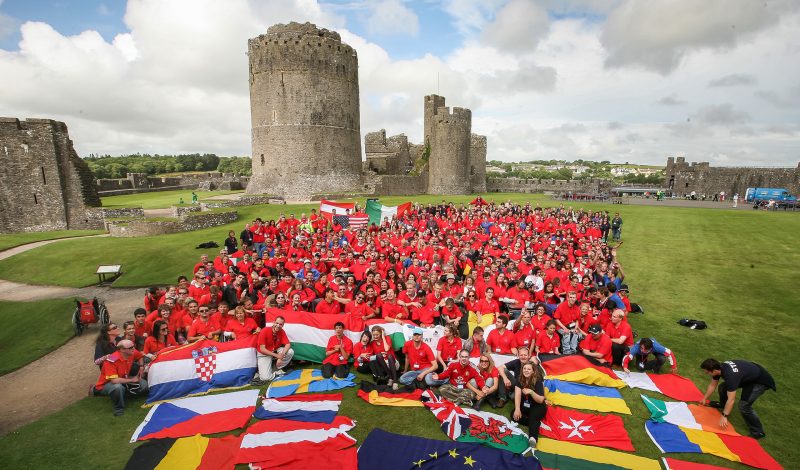 'The Camp transforms everyone. I love it.' Enrico, Italian guest from near Genoa, on his second visit to the Order's camp. Enrico was one of the 450 participants – disabled, helpers and friends – who came from 20 countries to spend a week at the Order's 27th International Summer Camp for Handicapped Young at Bluestone, Pembrokeshire, in the heart of Wales.
Great Britain hosted the Camp for the first time, organising a full programme of activities, cultural events, sight-seeing, an internet cafe, a disco, and giving guests the chance to greet old friends and meet new ones in a relaxed environment where nationalities and languages mixed together.
The annual Order of Malta camp caters for people aged 18 to 35 with a range of backgrounds and disabilities. It offers them the chance to take part in activities that would not normally be accessible to them – including, this year, scuba diving and flying lessons with the British Disabled Flying Association.
A highlight was the Mass celebrated in St.David's Cathedral, where the Grand Master Fra' Matthew Festing, together with other senior members of the Order of Malta guests and volunteers, was welcomed by the Dean, the Very Reverend Jonathan Lean.
This year's Christopher Cup croquet competition, held in the castle keep during the Camp's splendid excursion to Pembroke Castle, was won by Spain, with the Grand Master presenting the trophy.
The Camp was the recipient of a special grant from the European Union Youth Programme.
In 2011, the 28th International Summer Camp of the Order of Malta will be held in Italy in Lignano Sabbiadoro (Udine) from July 23 to 30.