DR Congo: massive fireball leaves hundreds dead and injured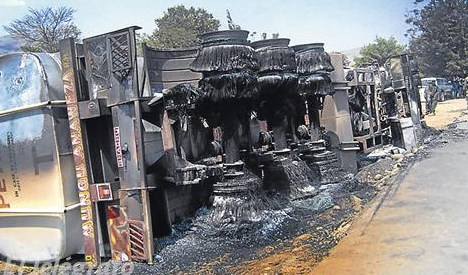 Traumatised victims aided by Malteser International after catastrophe at Sange

On 2 July a fuel tanker overturned and exploded in Sange, eastern Democratic Republic of Congo, sending a fireball tearing through homes and cinemas packed with people watching the World Cup. Helicopters and ambulances rushed to the scene, where over 230 were killed, another 200 seriously burned.
As the next stage in aid, Malteser International – the Order of Malta's International Relief Corps – is working with survivors fighting trauma from injuries or loss of family and friends by integrating them into a programme for psycho-social care. The project, funded by ECHO, the European Commission Humanitarian Aid department, is being implemented in collaboration with the only psychiatric clinic in South Kivu – the SOSAME Centre, Bukavu – and the provincial coordination for mental health.
Malteser International, is also running care sessions in the Sange community and training medical staff in the hospital and community health workers to identify post-traumatic stress symptoms. The task is medical, but also educational, as the rural population believes that demons and the victims' spirits are the explanations for post-traumatic stress. The trauma cases are expected to increase as the period of mourning concludes and families begin to comprehend their loss.