The Order of Malta's young members meet for three days
Rome, 11/11/2010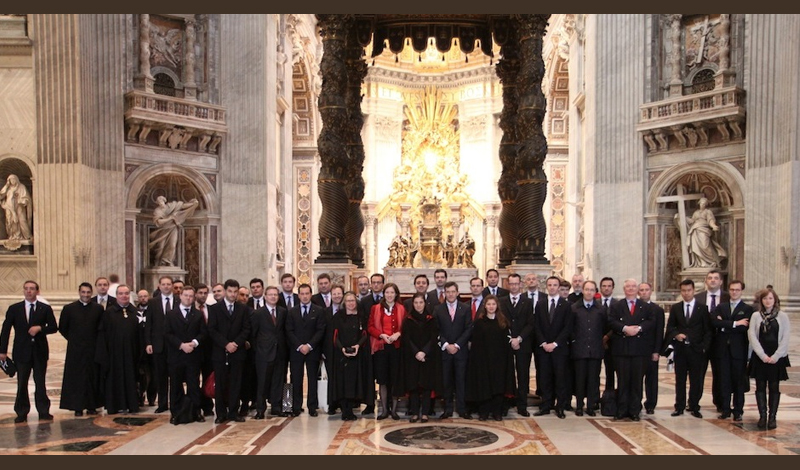 The Fifth International Spirituality Meeting of the Order of Malta's young members was held in Rome from 4 to 7 November, with fifty of them arriving from 20 countries to face a busy agenda of meetings, formation, meditation and religious functions.
Meeting the participants, Grand Master Fra' Matthew Festing stressed the importance of these appointments to deepen their knowledge of the Order, also hoping that they will "stimulate them to play an ever greater part in the Order's life and mission". The Grand Master particularly wanted to thank those who "have made the long journey from Singapore, Brazil, Bolivia, the United States or Lebanon to share these three days of human and spiritual formation with their brothers from Europe".
Many people spoke at the meeting characterized by informality. The Grand Master addressed the theme of young members and their religious vocation and profession in the Order of Malta. The Prelate, Archbishop Acerbi spoke about the Order's spirituality and charism whereas John Dunlap, member of the Sovereign Council, discussed Obedience and the vows of justice. The Order of Malta's Grand Chancellor Jean-Pierre Mazery participated in a question and answer session.
One of the most significant moments was the Saturday mass in St. Peter's Basilica celebrated by the Order's Prelate Archbishop Angelo Acerbi. During their stay in Rome, participants were able to visit the Magistral Villa and the Knights of Rhodes' House, headquarters of the Order's Italian Association.