Haiti: actions to prevent cholera spread
Haiti, 04/12/2010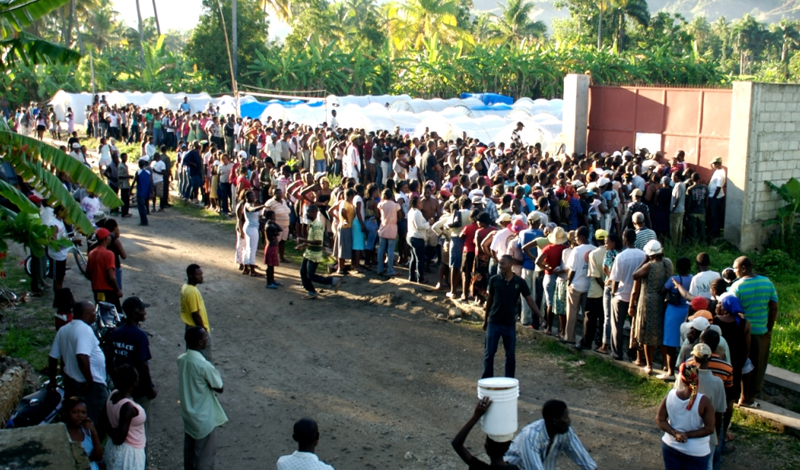 Malteser International in Port-au-Prince relief camps as epidemic grows twice as fast as estimated
Malteser International, the worldwide relief service of the Order of Malta, is currently working round the clock in Haiti in the fight against the spread of cholera. In cooperation with the German Federal Agency for Technical Relief (THW), special relief measures have been put in place to improve the hygiene standards of the camps in Port-au-Prince and to prevent the disease from spreading further. According to official statements, more than 1,500 people have now died from the disease, more than 60,000 have been infected and the epidemic is spreading twice as fast as estimated.
Since November, Malteser International and the THW have provided preventive action against cholera in Port-au-Prince by sending out mobile health units. Hygiene measures alone, especially in the numerous transitory camps in the capital, cannot stop the highly infectious disease from spreading. So the mobile health units disinfect sanitation facilities and water tanks with chlorine solutions, clean and rehabilitate the waste water systems, and distribute water cans, soap and water treatment tabs. Additionally, Malteser International teams with the support of the THW advise the population on basic hygiene, show educational films in Creole, and distribute leaflets. The teams can make early diagnoses of cholera patients and a organise rapid referral to specialised hospitals. The disease can kill in as short a time as four hours, so delays in getting patients to treatment centres are fatal.
The collaborative project, scheduled to run until end February 2011,  is financed by the German Federal Foreign Office. At three other project locations outside Port-au-Prince, Malteser International will distribute water cans, water treatment tabs, and soap to more than 10,000 families and will carry out education campaigns to ensure improved diagnosis of cholera, and referrals of the patients to specialised hospitals.
The United Nations Organisation has issued warnings against further spreading of cholera which would imply another severe humanitarian catastrophe in Haiti.
(photo: arche noVa)