Agreement between the Italian Relief Corps and the Russian Federation's Civil Defence
Rome, 19/12/2010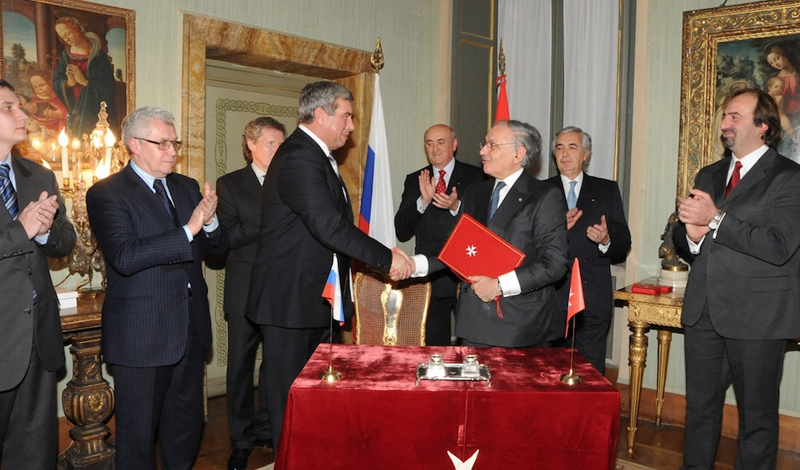 A memorandum of understanding for cooperation in dealing with emergencies caused by nature or by man was signed in the Magistral Palace by the Russian Deputy Minister Pavel Plat and the Grand Chancellor Jean-Pierre Mazery, in the presence of the Cardinal Patron Paolo Sardi and the Order's authorities.
The agreement between the Order of Malta's Italian Relief Corps (CISOM) and EMERCOM – the Russian Federation's Ministry of Emergency Situations – specifies the development of cooperation programmes, the coordination of emergency situations, the organization and management of civil defence volunteers and bilateral training meetings.
"We are both engaged in providing material and moral assistance to the victims of wars and natural disasters, to the people suffering from epidemics and deprivation," the Grand Chancellor stated. "This common commitment has often led us to work together in various parts of the world. This has happened recently in the countries affected by the Indian Ocean tsunami, in the flooded areas of Myanmar and Pakistan, in the towns and villages of Haiti destroyed by the earthquake. In all these cases and in many others, the Russian flag and the Order of Malta's octagonal cross have flown side by side over the same emergencies, over the same sufferings. I hope," the Grand Chancellor concluded, "that the signature of our memorandum of understanding can be a small but significant step towards a coordinated effort at international level for tackling the great emergencies".
The delegation of the Russian Federation delegation had earlier been received by the Order's Italian Association under which the Italian Relief Corps operates. Besides the Deputy Emergency Minister Plat, the Russian delegation consisted of the Director of the International Cooperation Department, Yuri Brazhnikov, and his deputy, Alexey Skantsev. Accompanied by the Order of Malta's Ambassador to the Russian Federation, Gianfranco Facco Bonetti, the Delegation was welcomed by the Association's Magistral Commissioner, Narciso Salvo di Pietraganzili, by the Director of the Italian Relief Corps, Mauro Casinghini and by numerous Corps' volunteers. The meeting offered the opportunity to present the work of the Order of Malta's Italian Corps to the Russian delegation and to describe the civil defence cooperation spelt out in the agreement.