The Beatification of John Paul II: the Order of Malta assists pilgrims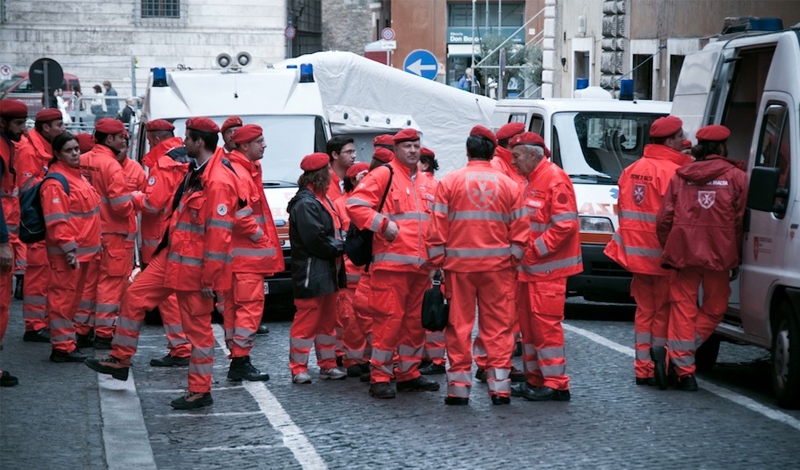 The Order of Malta will provide assistance to the hundreds of thousands of pilgrims who, in the coming days, will participate in the ceremony of the beatification of John Paul II in Rome.  The Order of Malta's Italian First Aid Corps and Military Corps will work together in the coordination of volunteers, equipment and vehicles.
In total, the two voluntary branches of the Italian Association of the Sovereign Military Order of Malta will employ 220 volunteers, of whom approximately 100 are doctors and nurses and 120 are rescuers.
Medical staff will be positioned in four Advanced Medical Posts: one being Circus Maximus for the vigil of the Cardinal Vicar Agostino Vallini, a further two will be in the area of Via della Conciliazione and the fourth will be placed by San Pietro station.  A mobile medical facility will be erected besides the Tiber River on the embankment.  In total there will be 30 facilities available including 11 ambulances and two mobile units.
The area assigned to the Order of Malta volunteers will be supervised by 12 medical teams helping those in the crowd where necessary and providing transportation to the nearest medical post.
"The role of the medical posts", affirms Mauro Casinghini, Director of the Order of Malta's Italian First Aid Corps, "is fundamental to the management of events like this.  They allow patients to stabilise and receive timely first-aid and, if necessary, be transported to the most appropriate hospital for their condition."
This medical support will continue throughout the day on May 2nd, for the Holy Mass of Thanksgiving.
Photographs: © Giorgio Minguzzi