Papal visit to Germany: the Order of Malta in action at crowded events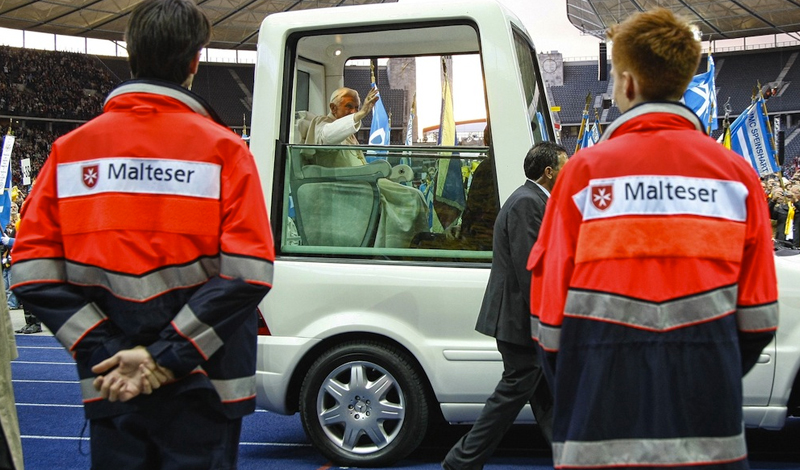 As Pope Benedict XVI travelled to acknowledge the thousands of faithful who greeted his acclaimed visit to Germany last week, staff of the Order of Malta were in attendance. Throughout the four-day visit – to Berlin, Freiburg and Erfurt – the papal entourage always included a doctor and an emergency medical assistant from Malteser Hilfsdienst, the Order of Malta's relief service in Germany.
Malteser Hilfsdienst was responsible for all first-aid services during all of the events, which continuously drew large crowds. In total over 2,000 volunteers performed more than 40,000 hours of work. Their support included bringing 1,200 disabled pilgrims to the ceremonies in the three cities. Operations director Benedikt Liefländer noted his staff were highly honoured to have played an essential part in the historic occasion.
In the grounds of Freiburg airport over 100,000 attended the Mass celebrated by Pope Benedict. At a vigil and Sunday Mass in Freiburg staffers cared for almost 400 medical cases, many suffering from hypothermia in the cool morning hours, many with circulation problems, and 29 cases needing urgent hospital attention.
'Everything worked smoothly,' reports operations director in Freiburg, Sophie Henckel von Donnersmarck. 'The words of the Pope touched our hearts and our mission and will stay with us.'
The Order of Malta Malteser Hilfsdienst has over 65,000 employees and volunteers at more than 700 locations in Germany. They give assistance for more than twelve million people each year worldwide.