The Grand Master receives Michel Roger, Monaco's Minister Of State
Rome, 06/10/2011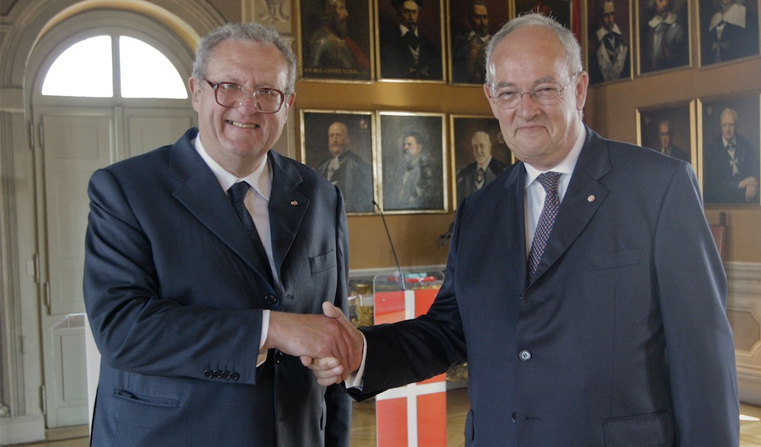 The humanitarian cooperation projects started up by the Order of Malta with the Principality of Monaco were the focus of the talks between the Grand Master of the Sovereign Order of Malta Fra' Matthew Festing and the Minister of State of the Principality Michel Roger.  The high representative of the Monegasque government, accompanied by Mrs Roger, was received in the Order's Magistral Villa in Rome.
"This official visit," Michel Roger stressed, "is a visible sign of the historic bonds that unite the Sovereign Order of Malta to the Principality of Monaco.  But this history continues today with the international cooperation between the principality's government and our respective embassies in the humanitarian sector.  In the principality this cooperation continues with the active presence of the Order of Malta's Monegasque Association."
The joint projects include:  the Monegasque government's support for the Order of Malta's Italian Relief Corps assistance to migrants in the Strait of Sicily; setting up a teletraining unit in the Dakar hospital in Senegal run by the Order's French Association; and performing a difficult heart operation in Monaco's Cardiac Surgery Centre, saving the life of a nine-month old Kenyan baby assisted by the Order of Malta. The possibility of developing a long-term joint project in the Lebanon is also currently being studied.
A luncheon was offered in honour of Michel Roger in the eighteenth-century garden of the Magistral Villa, attended by some seventy guests as well as the Order of Malta's heads of government.
This meeting is a follow-up to Grand Master Fra' Matthew Festing's official visit to Prince Albert II in the Principality of Monaco on 30 and 31 July last.