Using traditional knowledge to protect forests
Vietnam, 06/02/2012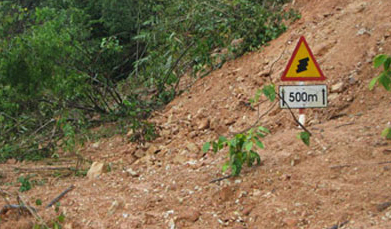 As of 1 January 2012, the Order of Malta's worldwide relief agency Malteser International is implementing a new project to support the preservation and sustainable use of forests in the Central Vietnamese district of Tay Giang. The preservation of the region's natural resources is meant to reduce the poverty of the local population as well as to contribute to disaster risk reduction.
The slash-and-burn method used to create new agricultural land leads to a continuous decrease of the woodland and represents a major problem for the Ca Tu, an ethnic minority living in this remote mountain area at the border with Laos.
The first disastrous consequences can already be observed: erosion and the loss of animal as well as plant species have lead to the destruction of the indigenous population's livelihood. More and more information about the ecologically compatible usage of the forest, and sustainable agricultural techniques as well as traditional medicine are lost. Unsustainable practices also contribute to changes in the local climate, intensifying the greenhouse effect and threatening the environment even further.
Within this four-year project, Malteser International is going to support trainings as well as the development of the local communities in the areas of reforestation, forest conservation and the preservation of resources. The Order of Malta's worldwide relief agency also plans to support alternative means of income, especially for women, and commits itself to the transfer of woodland property rights to the local population. The project is funded by the German Federal Ministry for Economic Cooperation and Development.