The Order of Malta supports the visually-impaired in Malta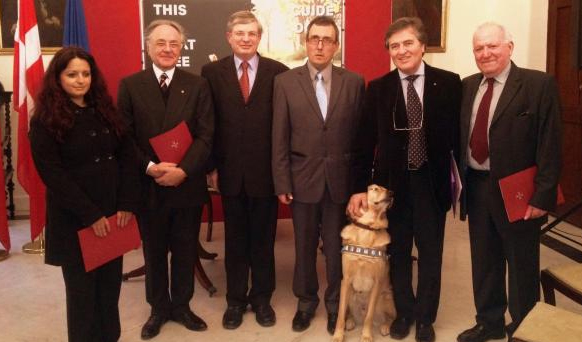 The Malta Guide Dogs Foundation will acquire and train a number of guide dogs for the visually impaired thanks to a private donation of €200,000 given to the Order of Malta.
During a press conference held in Valetta the Deputy Prime Minister and Minister of Foreign Affairs of Malta, Dr Tonio Borg, expressed his gratitude towards the Order of Malta for this noble initiative and also thanked the Malta Guide Dogs Foundation for its sterling work.
The Grand Chancellor of the Order of Malta, Jean Pierre Mazery, thanked Deputy Prime Minister Tonio Borg for his personal commitment to the realisation of this deserving project and for his support of the Order's activities.  He continued, "I am very pleased to attend this event which marks the start of a new and significant joint venture between the Island of Malta and the Sovereign Order.  Malta keeps a very special place in the heart of the 13,500 members of the Order throughout the world in present times".
Also participating in the press conference were Dr Philip Farrugia Randon, President of the Maltese Association of the Order of Malta and Ms Sara Grech of the Malta Guide Dogs Foundation.  The two organisations will work together in the development of this programme.
The foundation has had to send its guide dogs to Italy for their specialist training, but now with the help of this donation it will be able to realise a long-held dream of training the dogs in Malta.  Henceforth the foundation will be training ten dogs a year on the island and increasing its capacity to help the blind.  There are about 1,800 visually-impaired people in Malta.