Diplomatic relations between the Republic of Cyprus and the Sovereign Order of Malta formally established
Rome, 06/06/2012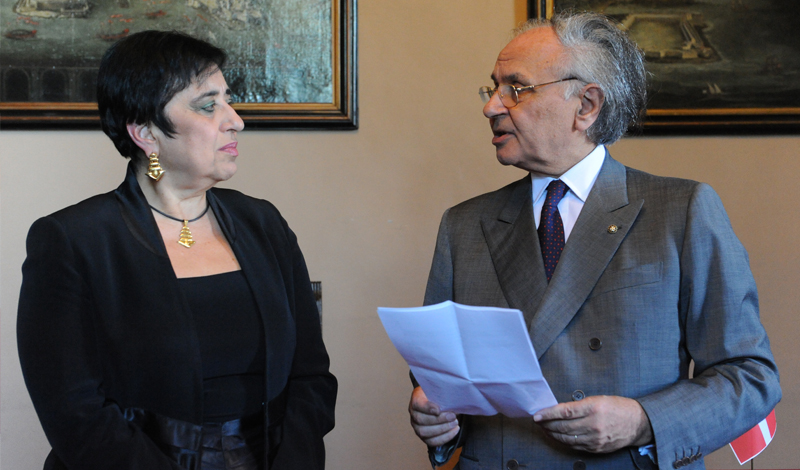 A bilateral meeting between the Republic of Cyprus and the Sovereign Order of Malta has taken place. On this occasion, the protocol that establishes the opening of diplomatic relations was signed. Mrs Erato Kozakou-Marcoullis, Republic of Cyprus' Minister of Foreign Affairs, and Jean-Pierre Mazery, Grand Chancellor of the Sovereign Order of Malta, signed the agreement in the Magistral Villa, institutional seat of the Order of Malta in Rome.
During their meeting, the two ministers discussed how the Republic of Cyprus and the Sovereign Order of Malta can contribute to dialogue in the Mediterranean and the Middle East, aided by their respective diplomatic corps and activities. Among the issues discussed were the promotion of religious freedom and human rights, respect for places of worship and their conservation, the problem of immigration and the lack of adequate social/health services in the Mediterranean area. During the meeting, the Order of Malta's medical and social projects in countries considered crucial for stability in the area were also touched upon.
The outlook for Nicosia's imminent presidency of the European Union was discussed.  The Danish six-month presidency will come to a close at the end of June, and on 1st July, 2012, the Republic of Cyprus will for the first time take over the responsibility of managing and coordinating the work of the Council of the European Union.
The island of Cyprus is a historic crossroads in a part of the world where oriental and western civilizations meet and where important historical events have taken place over the centuries. The aim of the Republic of Cyprus' foreign policy is to be proactively involved in processes that promote international cooperation, peace, stability, intercultural dialogue and sustainable development.
The historic ties that bind the Order to this island in the Mediterranean are significant. Cyprus was the site of important events in the history of the Order of St John of Jerusalem from 1210 to 1421. Today these ties have been significantly strengthened.