Jean-Pierre Mazery, Grand Chancellor of the Sovereign Order of Malta, visits the Republic of China (Taiwan)
Rome, 20/09/2012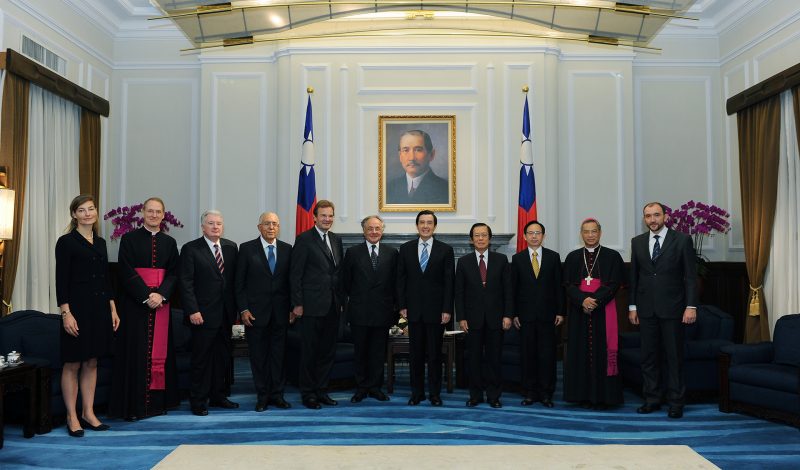 A delegation of the Sovereign Order of Malta, headed by the Grand Chancellor H.E. Bailiff Jean-Pierre Mazery, and the Grand Hospitaller H.E. Bailiff Albrecht von Boeselager, and including Ambassador Alberto Leoncini Bartoli, Ambassador of the Order to the Holy See, and Ambassador Michael Mann, Ambassador of the Order to Thailand and Cambodia, visited Taipei from September 9th to 14th at the invitation of the Minister of Foreign Affairs to discuss the possibilities of mutual collaboration in the humanitarian and social sectors.
The delegation had an audience with Ma Ying-jeou, President of Taiwan and was received by Timothy Chin-Tien Yang, Minister of Foreign Affairs, who hosted a dinner in honor of the delegation. Further meetings were held with the Minister of Health, the Deputy Minister for Mainland Affairs Council, the Secretary General of the International Cooperation and Development Fund, the Chargé d'Affairs of the Holy See in the Republic of China (Taiwan), the President of the Chinese Regional Bishops' Conference,  the President of the Fu Jen Catholic University, the Chairman of the Cathay Charity Foundation, the Tzu Chi Foundation and the National Taiwan University Hospital.
It was the first visit for both H.E. Mazery and H.E. von Boeselager to the Republic of China (Taiwan) and provided a favorable opportunity for the delegation to get to know Taiwanese institutions and foundations as well as institutions involved in humanitarian and development aid activities, in order to find collaboration opportunities in the medical and humanitarian fields that have been the essence of the mission and work of the Order of Malta for almost 1,000 years.
The ROC Government and the other Taiwanese NGOs have provided aid relief to the victims of the disastrous tsunami in Southern-east Asia in 2004, the tremendous earthquake in Haiti in 2010, and the terrible earthquake and tsunami which hit Japan on March 2011 as well as humanitarian assistance and medical and technical equipment and supplies to a lot of countries in need around the world. Taiwan's mission as an aid provider perfectly matches the activities carried out by the Sovereign Order of Malta all over the world. The Taiwanese Government shares the same ideals of the Order of Malta and, by joining forces, together they can make further efforts to promote world peace and humanitarian assistance.