The National Library of Malta celebrates the Order's past and present
Valletta, 09/06/2013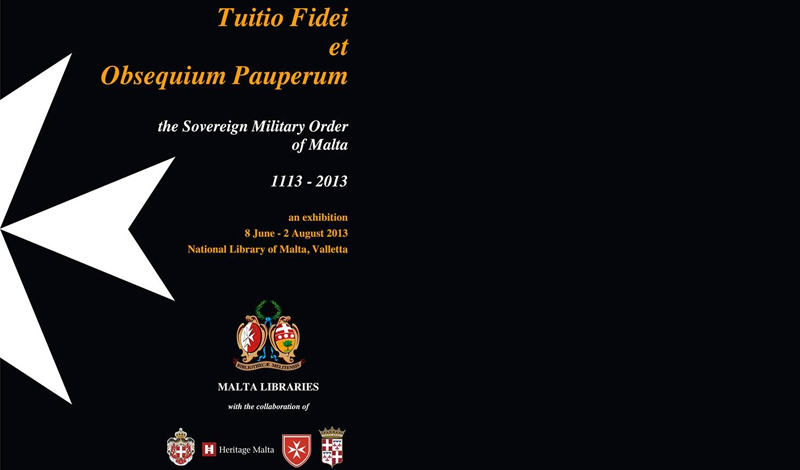 1113-2013 anniversary in an exhibition on Malta showcasing the most significant documents
It holds pride of place, despite its 900 years, under a glass case protecting it from the fragility of centuries.  We're talking about the Pie Postulatio Voluntatis, the most important – and most admired – manuscript in the exhibition inaugurated on 7 June last at the National Library of Malta in Valletta.
'Tuitio fidei et obsequium pauperum – Sovereign Military Order of Malta 1113-2013′, is the title of the exhibition commemorating the 900th anniversary of the official recognition of the Order of St. John by Pope Paschal II.
The exhibition presents manuscripts, documents, objects and books from the Order's archives, some dating back to its origins. It is divided into sections recounting the different stages in the Order's 900 years of life: The First Years, Rhodes and Malta, Government, In the Service of the Sick, Piety and Devotion, Life on Malta.
The most precious documents on show include the 1530 bull with which Charles V, King of Spain and Emperor of the Holy Roman Empire, donated the islands of Malta, Gozo and Comino to the Knights of St. John after the loss of Rhodes.
Part of the exhibition is devoted to the Sovereign Order of Malta's present. Texts and photograph illustrate the Order's current activities worldwide, with a special section on the Maltese Association's commitment and health and welfare activities.
The exhibition was inaugurated by the Minister of Education Evarist Bartolo and the Sovereign Order of Malta's Ambassador to Malta, Ing. Umberto di Capua, who in his speech recalled that "during these 900 years, for almost three centuries the life and destiny of our Order has been intertwined with this marvellous island of Malta, with this ancient and noble  people. Three centuries during which the Knights and Maltese lived and fought together, also during events of enormous importance for European civilization. In this context, the Ambassador continued, "our friendship is very special, continuously strengthened by a fraternal and constructive cooperation focused on the ideals and values that are the essence of our common roots".
Olivier Mamo, National Librarian of Malta, stressed how "these documents are the heart of the National Library's historic collection of over 7000 volumes, a precious gift by the Order to the Maltese nation.  By a happy coincidence,  all the documents and publications showcased are housed in the last building designed and built by the Order on Malta: the National Library".
To commemorate this anniversary, the National Library has also launched two new publications. The first provides information on the Order's archives preserved in the National Library from its origins to the present day. The other publication offers photographs and information on each of the 28 Grand Masters who ruled Malta between 1530 and 1798.
Curators of the exhibition are Joanne Sciberras and Maroma Camilleri. The exhibition will be open to the public, free of charge, from Monday to Friday during the opening hours of the National Library, in the Maltese capital Valletta, until 2 August 2013.
Photographs: Martin Micallef