Over 600 disabled youth and volunteers attend the 30th International Order of Malta Camp in Ireland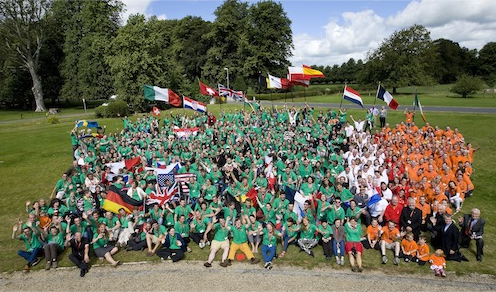 Team games, strolls outdoors, hikes, dinners with friends, long chats to the wee hours of the morning, and naturally lots of time for meditation and spirituality, including Mass celebrated by the Prelate of the Order of Malta Mons. Angelo Acerbi in five languages. The international camp for disabled youth that took place this year in Kildare, Ireland, is this and much more. The young people who attended it – 600 disabled youth and volunteers aged 18 to 35 – are very aware of that, as Matteo Rizzi, person in charge of the Italian group, explained in a Vatican Radio interview. "The goal is to give these disabled young people the chance to feel they are members of a team, to carry out the camp activities together while exceeding their limitations so they can express themselves to the utmost.
"First of all it is a trade," added Rizzi, who manages a group of 19 young people. "Gestures, eyes and smiles are a way to feel free from family and personal situations, some even quite difficult, that these young people live through during the year. The Summer Camp is a profound experience, a holiday spent all together."
Today it is a regular appointment for the Order of Malta. In fact, this is the 30th International Camp in a row. The Grand Master, Fra' Matthew Festing, went to the camp this year as usual, taking part and joining the throng of young people who, fitted out with rucksacks and strictly rain-proof jackets, visited Dublin. Here the Grand Master had the opportunity to admire several rare manuscripts and an age-old harp kept at the historic Trinity College, the famous university that Oscar Wilde and Samuel Beckett had attended.
The Irish Association of the Order of Malta chose the motto "Yes you can" so that physical and architectural barriers can be knocked down with willpower and cooperation. They are three simple words that reflect the spirit of the International Camps. It gave the volunteers a unique opportunity to lend social service, and was a rare occasion for everyone to pit their skills against the new challenges and increase their independence in a serene and safe environment for the disabled guests.
The International Summer Camps are also a marvellous occasion to socialise, and are places where the various nationalities and languages blend together to push the hardships that these young people face daily into the background. The participants of this edition, all coming from Europe, Lebanon and the USA, said goodbye to each other on the 17th of August. For many of them it was only a "see you next year".