Italian Summer Camp for disabled young people in the ancient castle in Magione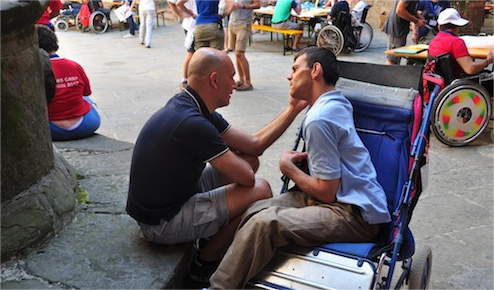 The medieval residence once again offers hospitality
It's difficult to tell the disabled and volunteers apart when you see them all engaged in outdoor sports and leisure activities. Because this is the spirit of the Italian Summer Camp for disabled young people held in the Order of Malta's evocative medieval castle in Magione, offered by the Grand Master for this important event. This ancient structure dating back to 1150 has reverted to its original function of providing hospitality in 2013. Nestling in the heart of Italy, in the Umbrian countryside a few kilometres from Perugia, the castle was originally a hospice for pilgrims going to or coming from the Holy Land or for those travelling the Via Francigena towards Santiago di Compostela.
After the success of the camp last year in Tarquinia, the three Italian Grand Priories, with the participation of the Order of Malta Italian Relief Corps' volunteers, wanted to repeat the rewarding experience. The theme of the 2013 Summer Camp is "Protecting with Tenderness", an explicit reference to the words of Pope Francis who, during the mass for the inauguration of his Petrine ministry on March 19 last, had urged the faithful to "protect people, showing loving concern for each and every person, especially children, the elderly, those in need". This is the leitmotif of the Summer Camp, ending on Saturday 31 August, in which over 90 disabled young people and volunteers participated, these latter with different tasks and duties ranging from cooking to cleaning bathrooms and bedrooms. Two volunteers were allocated to each disabled person to guarantee the best care and attention and to enable newcomers to learn from the more experienced.
The number of volunteers is growing and has even doubled compared to last year. Because those who have already had this experience don't want to miss out on another chance to make themselves useful and to give joy to a young disabled person. As Federica, at 17 the youngest volunteer in the group, tells us: "I started almost by chance. I was accompanying a friend and I became so involved that I wanted to repeat the experience in future years, including the last two international camps" held in Hungary and Ireland.
This year, the strategic position of the camp meant that participants could enjoy cultural, religious and nature excursions. The week's programme included a visit to Assisi, with a stop-over in the basilica of Santa Maria degli Angeli housing a copy of the icon of the Madonna of Philermos, protectress of the Sovereign Order of Malta, and the boat trip on Lake Trasimeno. And of course games, films and discotheque involving everyone.