The Lithuanian Prime Minister on an official visit to the Sovereign Order of Malta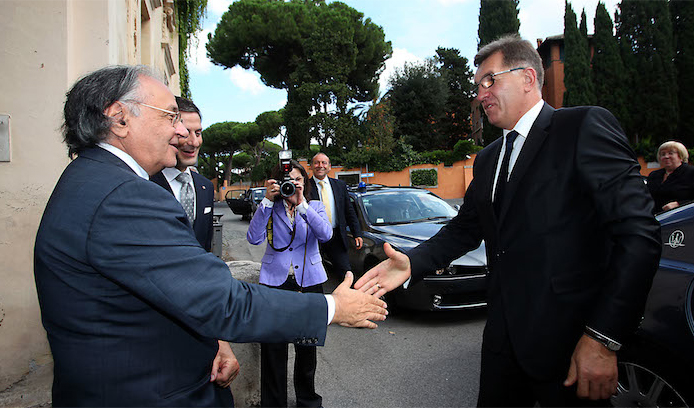 The Grand Chancellor of the Sovereign Order of Malta Jean-Pierre Mazery  received the Prime Minister of the Republic of Lithuania Algirdas Butkevičius  on 19 September.
"The Order of Malta's initiatives in Lithuania are a source of great satisfaction,"  the prime minister said in his speech. "For many decades now the Order has been providing material support for the weaker groups in my country through numerous social and humanitarian programmes. Soup kitchens, meals on wheels and home visits for the elderly are just some of the projects that help thousands of people daily.  Our cooperation," he concluded, "couldn't be more rewarding".
In view of the current Lithuanian Presidency of the European Union Council some international topics were discussed during the meeting, such as the situation in Syria and the Middle East.
Participating in the meeting, which took place in Rome in the Order of Malta's Magistral Villa, was Enzo Moavero Milanesi, Italian Minister for European Affairs, Rev. Msgr. José Avelino Bettencourt, chief of protocol of the Secretariat of State for the Holy See, and eight ambassadors from European countries accredited to the Sovereign Order of  Malta.