The Grand Master of the Sovereign Order of Malta receives the Mayor of Bethlehem Vera Baboun
Rome, 16/10/2013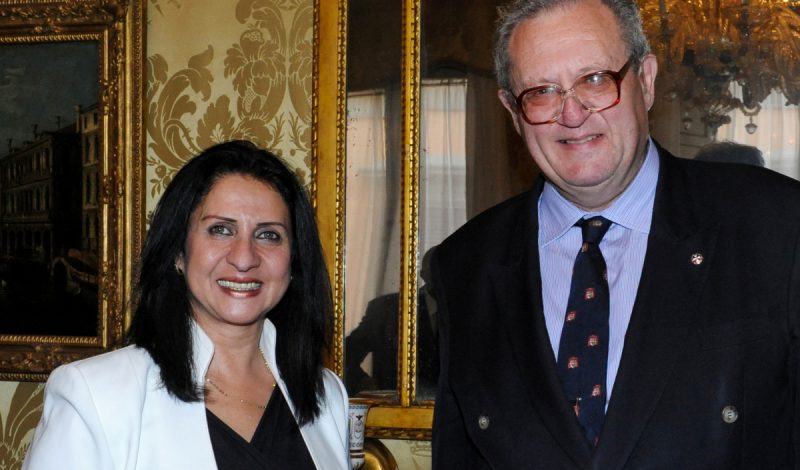 The Grand Master of the Sovereign Order of Malta, Fra' Matthew Festing received the Mayor of Bethlehem Vera Baboun this morning.  The meeting, which was held in the Magistral Palace and was also attended by the Palestinian Ambassador to the Holy See,  Issa Kassissieh, and the Order of Malta's Ambassador to the Holy See and diplomatic advisor, Alberto Leoncini Bartoli, focussed on the living conditions of the Palestinian population in the West Bank and the excellent relations between the institutions of Bethlehem, cradle of Christianity, and the Sovereign Order of Malta, founded precisely in the Holy Land in 1048.
A strong bond that has endured over the centuries and is best represented today by the Holy Family Hospital that has been offering healthcare to pregnant women, without discrimination of race, religion or origin, since 1990. It is a hospital that the mayor of Bethlehem herself has called a centre of excellence and a fundamental support for the Palestinian population, not only for the maternity services offered, but also for the training and employment opportunities it offers to Bethlehem residents. Unemployment in the Palestinian city is one of the most pressing problems on mayor's agenda.
A Christian, as specified by municipal law, and university lecturer, Vera Baboun was elected a year ago as the first woman mayor of Bethlehem.  She has five children, two of whom were born in the Holy Family Hospital, which will soon celebrate the birth of its 60,000th child.
To testify to the profound link with the Order of Malta, a few months ago the mayor met its ambassador, head of the Ramallah mission, Justin Simpson, and the senior management of the Holy Family Hospital.
The Sovereign Order of Malta has had relations at ambassadorial level with the Palestinian National Authority since July 2011.